The Startups on San Francisco's Billionaire's Row
San Francisco's Billionaire's Row is a thriving entrepreneurial hive
By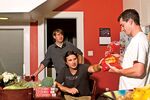 In a city full of weird and wonderful thoroughfares, Broadway Street remains one of San Francisco's finest. It begins at the water's edge and runs past the Financial District, the strip clubs and Italian eateries of North Beach, and the eclectic mix of stores in bustling Chinatown. After the Broadway Tunnel, the street traverses hilly, residential neighborhoods until it arrives at Pacific Heights and an especially impressive stretch of real estate known as Billionaire's Row. This is where the moneyed—old and new—enjoy the finer things in life, such as ample parking.
Three years ago, something extraordinary happened on Billionaire's Row: One of the mansions was put up for rent. Instead of being taken by a rich financier or executive, the $8 million house was leased to eight people, most of them entrepreneurs in their 30s. The home has since morphed into a hive of startup activity: A multimillion-dollar iPad accessory franchise began there, as well as a lettuce-growing machine and a database company. "It's like an incubator," says Ryan Turri, a resident and aspiring beef jerky magnate. "You're up at two in the morning and bouncing ideas off three or four guys who are all smart."
Incubator houses have become a Silicon Valley trend. There's the Rainbow Mansion in Cupertino, which has its own website and 5,000 square feet of space to house employees from Apple and Google, as well as startup junkies. In San Francisco, graduates of Harvard and Massachusetts Institute of Technology have formed rival startup communes. A wealthy devotee of the Grateful Dead owns a network of "Dead Houses" that get rented out to young Stanford alums. "They're all named after Dead songs," says Altay Guvench, 31, who just opened a talent agency for programmers called 10x Management. "I live in Sugar Magnolia with eight other people. It's a beautiful house in the marina." There are houses with people dedicated to building hardware and others aimed at knocking out smartphone apps. "Room in hacker house available," reads a recent posting on Meetup.com. "It would be a plus to find someone into the startup scene and who likes to hack on side projects."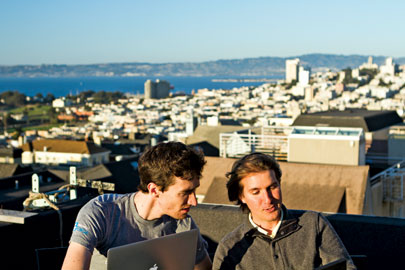 The mostly male residents of the Broadway house share a four-story, seven-bedroom colonial with great views of the Bay. The first floor includes a well-stocked library and a huge kitchen with a pair of refrigerators and ovens. One shared space has a Ping-Pong table and a car-racing video game rig, along with empty bottles of booze sitting like trophies on a shelf. The house hasn't been updated in decades, and most of the bedrooms are small. What really sets it apart is the Billionaire's Row address. The tenants asked that their exact address and rent not be revealed, so as not to upset the landlord. But they say they pay less per month to live in the mansion than they would in one-bedroom apartments. "We've sort of scaled things up and made them a bit more glamorous," says Patrick Buckley, the chief executive officer of iPad case maker DODOcase. "Short of being Larry Ellison, this is sort of unattainable," he adds, referring to the founder of Oracle and the sixth-richest person in the world. Ellison lives a few doors down. So do the Gettys.
Buckley, 31, co-founded DODOcase in 2010. He used one part of the house to assemble the case, which looks like a bound book, and another for shipping. The company sold about $4 million worth in its first year—President Obama owns one—and now employs more than 20 people at a factory in San Francisco.
In the basement, Justin Santa Barbara, a British coder, built a small supercomputer to help create what he calls "the world's fastest database." In the library, Antony Evans has developed an iPhone app that tries to determine if a user needs to see a doctor by asking a series of questions. Harvard will begin testing it in a couple of months. Turri, the beef jerky maker, has a meat smoker in the backyard and a flavoring station in the living room. "I've been doing startups for quite a while, and it can be quite a lonely experience," says Evans, 32, who arrived at the house after getting a math degree from Cambridge. "Here there are five guys working in the house at any one time, and you can grab a bite. It helps you deal psychologically with the ups and downs."
The neighbors have raised a few grumbles. One party got too raucous, and there was the time some folks from the house put on tuxes and crashed a party at the Gettys. For the most part, though, the Broadway house has been drama-free. For a residence dominated by thirtysomething males, the living areas are surprisingly clean. Vacancies are unheard of. Whenever someone moves out, there are plenty of entrepreneurs, robotics enthusiasts, and venture capitalists who want to move in. Usually people leave when a project hits it big and they grow out of the space, or when someone gets married. That is, except for Buckley, who moved in with his wife, Emily, right after they got married. "Most people think it would be weird, but we're both pretty social," he says. "Pat likes the social aspect and all that," says Turri. "But with the married thing. Yeah, I feel like it might be time to move on."
Before it's here, it's on the Bloomberg Terminal.
LEARN MORE