So … About That Money Paul Ryan Requested From Obamacare
By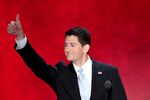 First there was the news, uncovered by the Boston Globe, that Representative Paul Ryan wrote five letters requesting money from Obama's stimulus program—the same $787 billion economic rescue package he voted against and decried as a "wasteful spending spree."
This week, the Nation turned up more evidence that Ryan has advocated for money from government programs he opposes. The evidence was a letter, written by Ryan in December 2010, in support of a federal grant request being made by a community health center in Kenosha, Wis. The grant, called New Access Point, was part of a program that provides billions of dollars to expand and build primary care clinics in poor communities. That program is part of Obamacare, the law Paul Ryan says he wants to repeal.
The story spread around the Web with the usual speed. But there was a missing piece: an explanation from Ryan himself. So I asked the campaign to shed light on the letter. Ryan's spokesman, Brendan Buck, said the story was nonsense and that the New Access Point program wasn't really part of Obamacare because it started during the Bush administration. "This type of misinformation is what you get from gotcha reporting on liberal blogs," Buck said in an e-mail.
Except, Ryan wrote the letter in December 2010, after New Access Point became part of the new health-care law—and had received an infusion of cash because of it. Buck said that's irrelevant: "So all grant programs that long existed should be off limits to his constituents because Obamacare came along and wrapped its tentacles around them?"
Buck declined to say whether Ryan viewed support for community health clinics as a reasonable use of federal dollars. But he insisted that Ryan doesn't oppose everything Washington does: "Just because he believes in limited government doesn't mean he believes in no government." So far, Ryan and Romney have had a difficult time articulating—in words and actions—where they draw that line.
Before it's here, it's on the Bloomberg Terminal.
LEARN MORE