MBA Job Hunt: Negotiating the Deal
Francesca Di Meglio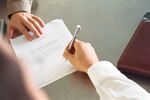 The final step in launching one's post-MBA career is accepting a job offer. Before signing a contract, job hunters have to determine if the opportunity is worth it. The brand, culture, salary, benefits, and job title and responsibilities must all play into the decision. And if the offer leaves something to be desired? That's when it's time to start negotiating. If that sounds as pleasant as a day under the dentist's drill, then consider these steps to making it less awkward and more productive:
Step One: Uncover the norms
Some of the companies that typically hire MBAs refuse to negotiate and asking to do so would be both fruitless and embarrassing. For example, banks and consulting firms that hire big classes of MBAs each year normally provide similar packages to everyone and would not be willing to change the offer. If you are not sure of the company's stance on negotiations, ask around. Talk to allies in the company, career services, and students and alumni with experience at the company. Also, keep in mind that negotiating is not a requirement. If job hunters are happy with the job, salary, and benefits, they can simply accept the offer, says Rebecca Joffrey, director of the Career Development Office at Dartmouth College's Tuck School of Business.
Step Two: Determine your priorities
What is important to one potential employee is not as important to another. Those who want to spend time with their family might value additional vacation time more than a bigger bonus. "We encourage students to think broadly and not just in terms of compensation," says Ron Peracchio, senior director of the Career Development Office at the MIT Sloan School of Management. Potential employees might negotiate for more resources, such as an executive assistant, a different location, help with the move, or even additional mentorship. Before people can ask for these things, they have to know what it is they want most. Decide before negotiating.
Step Three: Research comparable offers
Due diligence—finding out what the going rate is for the role, industry, and company—is the obvious next step. No one wants to ask a potential employer for too little or too much. Web sites such as Glassdoor.com and Payscale.com are useful for researching pay and benefits, as are members of your own social network and the MBA program's career services office. The findings of your research should be brought to the hiring manager, says Chris Thomas, global recruiting director of the Experienced Commercial Leadership Program at General Electric in Fairfield, Conn. If job hunters are asking for something other than increased compensation, they should find out what kinds of things the company has agreed to in the past. After all, no one wants to ask for something completely outlandish.
Step Four: Evaluate your value
Those who go into the same industry and bring with them work experience and knowledge gained in an MBA program have more leverage in negotiations than someone who is changing careers. "Consider your own background," says Char Bennington, director of career management at the University of Chicago's Booth School of Business. "Why are you worth more?" Those who want to negotiate a higher salary or more benefits have to demonstrate what the company will get in exchange for the bigger investment, whether it's extensive job-relavant experience or specific skills.
Step Five: Present your case
To initiate a negotiation, Damian Zikakis, director of career services at University of Michigan's Ross School of Business, suggests saying something like this: "I appreciate your offer, and I would like to discuss if there's room for movement in some areas. Are you the right person to talk to?" From there, you should make an argument that includes the research you conducted about comparable salaries and benefits vs. the cost of living and the like, demonstration of your value, and the changes you would like to make to the offer. Each request should have sound reasoning behind it, warn career placement directors who advise students on negotiating. Being cogent and convincing is a top concern. "Negotiate constructively," says Zikakis, "because the company is continuing to evaluate you."
Join the discussion on the Bloomberg Businessweek Business School Forum, visit us on Facebook, and follow @BWbschools on Twitter.
Before it's here, it's on the Bloomberg Terminal.
LEARN MORE