How Does Everybody Know When to Hoist Those Signs?
By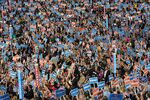 When San Antonio Mayor Julián Castro took the stage at the Democratic National Convention on Monday, he was greeted by a hall of delegates waving signs that read: "Oportunidad." Minutes after he finished speaking, Michelle Obama came out and the audience hoisted "Michelle" signs. That quick placard switcheroo was just one part of some pretty intricate choreography happening on the convention floor.
Yes, there's actually an army of volunteers whose sole job in Charlotte is to keep delegates fired up and on message. The volunteers run around wearing the kind of reflective vests you see on crossing guards. If their arms aren't full of signs, they're usually making wild gesticulations to pump up the crowd. These folks don't mess around.
Last night I snagged a seat with the Californians, whose cheering and signage was masterfully orchestrated by Shawn Bagley, a whip for that state's delegation. Bagley made sure the right signs were in the right place at the right time. He'd whirl his fingers in the air to drum up a crescendo in the cheering and point out when a TV camera was on someone in the group. "You guys fire it up for the camera! You better go crazy!" he hollered at one point. When an older delegate looked low-energy, he said: "You fallin' asleep? You can't be fallin' asleep on me!" She perked right up.
As Bagley was prepping his crew for President Obama's big speech Thursday, I caught up with him for the scoop on how he handles that responsibility:
What's your role?
I like to think of myself as a conductor. This is a reality show, part of prime time. If the media wants a reaction shot, I'm gonna give them a reaction. I want to show the energy from California.
How do you manage all the signs?
Volunteers rush the signs down in big stacks from an area they call the "boiler room" in the lobby. It's impressive—they have to hit all the states at once. New Hampshire will take four minutes to pass the signs out. But California, with 609 delegates … you do the math. It's choreographed with the speaker on stage. Like, we had education signs when Arne Duncan was about to speak. I had to tell people, "Keep 'em down, keep 'em down!" because they get all excited and want to put them up immediately. But when Arne came out—Boom!
I hear sometimes delegates can get a little aggressive to get their hands on a particular sign.
We never have enough. They'll say, "Oh, I want wah wah wah." Oh, shut up. I will get you a sign, you just have to be patient.
So which state has the best energy?
I have a little battle with Texas because they think they're louder, but I'm whipping them.
What else do you orchestrate?
Seat consideration. We do open seating, but I need to reserve space for the elected officials—they get to choose where to sit. Massachusetts seats their delegates from A to Z one night, then Z to A the next night. Also, we have 20 whips for California, and we have to get signatures from all 609 delegates to nominate Obama. That's from the elected delegates and the state officials. It's kinda tacky sometimes, but I say, "Hey, Senator, can I get your signature on this?"
Before it's here, it's on the Bloomberg Terminal.
LEARN MORE