Four Reasons Draghi's Plan Alone Won't Save Europe
By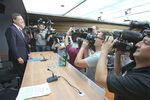 Give Mario Draghi credit: The president of the European Central Bank on Thursday followed through on his promise of stronger action to ease pressure on such embattled European nations as Spain. Meeting in Frankfurt, the bank's Governing Council agreed to buy unlimited amounts of the bonds of countries that meet certain stringent conditions for help. Spain, which is suffering from serious capital flight, is likely to be the first to seek aid under the awkwardly named Outright Monetary Transactions program.
But as powerful as Draghi is, there's only so much a central banker can do to fix what ails Europe. Here are four obstacles the new plan doesn't overcome:
Shortsightedness: By buying short-term bonds, the European Central Bank will help hold down short-term interest rates, but it's not the cost of credit in the short term that's the problem in Europe. The problem is sky-high long-term rates, which are linked to the cost of mortgage loans and some business borrowing. In the U.S., the Federal Reserve has been buying up long-term debt, but the ECB has no such intent. Draghi didn't make clear why he's avoiding long-term bonds.
More cuts to come: The deficit-cutting demands that Europe imposes on Spain will make its short-term problems even worse, as I wrote in a preview of the ECB action. The more Spain cuts spending, the higher its unemployment is likely to go. A truly united Europe would tide Spain over its financial crisis, but there is no appetite for such burden-sharing, especially given Spain's dodgy record on reform to date.
Bound by banks: The ECB's action could make national governments and their banks more dependent on each other, even though the goal of the ECB and the European Union is to lessen that fatal interdependence. Banks may be encouraged by the plan to load up even more on the debt of the countries where they're based, says Raoul Ruparel, head of economic research for Open Europe, a research and advocacy group. The problem with interdependence is that banks and sovereigns are dragging each other down.
Fiscal disharmony: The ECB is doing the best it can, but it can't deal with the fundamental problem of the euro zone, which is that the 17 nations share a currency but don't have a banking or fiscal union to go with it. Fred Bergsten, director of the Peterson Institute for International Economics, predicts optimistically in the September/October issue of Foreign Affairs that "Europe will emerge from its current turmoil not only with the euro intact but also with stronger institutions and far better economic prospects for the future." But getting to that nirvana will require action by more than just Draghi and the ECB Governing Council—which are by now stretched to their limit.
Before it's here, it's on the Bloomberg Terminal.
LEARN MORE