Democrats Have a Future in Texas. So Says Julián Castro, Anyway
By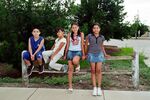 San Antonio Mayor Julián Castro says Americans are ready to elect a Latino president—but he's not the guy. "That's not what I'm aiming for," he told reporters at a Bloomberg/Washington Post breakfast on Thursday morning. After a pause, he added, "I also live in Texas."
Ah, yes. Texas. As Castro pointed out, exactly zero of Texas's 29 statewide offices are filled by Democrats. And holding a statewide office such as governor or congressman is usually a prerequisite for being president. Castro said, though, that Texas is quickly changing its tune. He sees three things leading to the purpling of Texas in the next six to eight years:
1. The state's demographics are shifting. Almost two out of five Texans are Hispanic, a number that's on the rise, and Latinos overwhelmingly support Democrats.
2. Texas's strong economy is attracting transplants from California, Nevada, Florida, and other states—and those new residents are importing more liberal values. "It's become a more urbanized state," Castro said. He also pointed to a recent poll in Virginia that showed that people who have lived in the state for 21 to 30 years favor Mitt Romney over President Obama, 49 percent to 46 percent. But if you look at people who moved to Virginia in the past 10 years, they support Obama over Romney, 67 percent to 29 percent. He thinks that bodes well for Democrats in Texas.
3. While businesspeople have traditionally favored the GOP, Castro says Texas's Republicans are moving so far to the right that they're starting to alienate their base. "It's not enough to just say we're going to have less regulation, you know, we're going to keep your taxes low," he said. "That's only part of the equation." He said some people in the business community want predictability and are now saying, "I don't see a place in the Republican Party anymore, when we're thinking about smart business decisions, thinking about investing for the future."
The purpling of Texas would clearly be a good thing for Castro. But don't forget, Texas is huge. More people live there than in any other state, which means it has the second-largest number of electoral votes and seats in Congress. So even a small political shift—if Castro's prediction pans out—could have an impact nationally.
Before it's here, it's on the Bloomberg Terminal.
LEARN MORE