Bloomberg View: A Reality Check on American Manufacturing
To revive manufacturing, the U.S. must focus on realistic solutions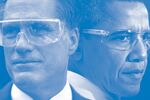 Manufacturing has been declining as a share of the U.S. economy for three decades, but you wouldn't know it from tuning in to the campaign frequencies.
Both Republican presidential nominee Mitt Romney and President Barack Obama talk dreamily about a manufacturing revival, with Romney promising to roll back regulations and Obama offering tax breaks and other incentives that border on industrial policy.
Manufacturing matters, especially this year, when industrial Midwestern states are where a big part of the electoral battle is being fought. But globalization, productivity gains, and advances in automation make it unlikely the sector will ever return to its place of prominence in the U.S. economy. Rather than promising to restore manufacturing to unachievable heights, Obama and Romney should focus on policies that can keep the U.S. competitive without wasting resources, awarding special treatment, and undermining sound regulation.
Manufacturing had been among the rosier spots in the U.S. economy, helping to power much of the early recovery. However, the sector has lost steam in recent months as the global economic slowdown has weakened demand for U.S. goods. New data show manufacturing contracted for a third month in August, marking the longest decline since the recession ended.
The sector's overall slide has been under way for decades. Over the past 12 years, U.S. manufacturers have cut 31 percent of their workforce, or nearly 6 million workers. Their contribution to gross domestic product fell to 12.2 percent in 2011 from 22.7 percent in 1970.
This is not to say the U.S. should give up on manufacturing, which remains important in large part because it helps reduce the trade gap. But as with agriculture, manufacturing is likely to keep shrinking as a share of national output. The key will be finding new industries to fill manufacturing's void rather than chasing diminishing returns through distortive policies.
The soundest approach would be to start with the areas where both presidential candidates agree, including lowering the corporate income tax, now among the highest in the world and consistently cited as a primary reason companies send jobs overseas. Lawmakers should also make permanent the R&D tax credit. Manufacturers claimed 42 percent of total credits in 2009, according to a Bloomberg Government analysis, yet a broad array of industries could benefit, too.
Expanding free-trade agreements and targeting money to improve labor force skills are other ways to ensure the U.S. remains competitive. China outpaces the U.S. in awarding doctoral degrees and has nearly doubled its number of engineering degrees over the past decade. Businesses can play a role, too, by investing more to retrain employees.
Reviving manufacturing will always be an easy campaign line; finding realistic solutions that don't raise false hopes is a little harder.
Before it's here, it's on the Bloomberg Terminal.
LEARN MORE