Bill Clinton Takes Charlotte
By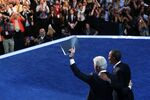 Michelle Obama's moving tribute to her husband may still rate as the week's biggest triumph—but after Bill Clinton's speech last night, that's no sure thing. Even before he took the stage, he was dominating the Democratic convention and, increasingly, the 2012 campaign. Democrats invoke the Clinton economy in lieu of a stronger recovery. Republicans yearning to seem reasonable feel they can safely praise him. His approval rating has reached a historic high of 69 percent. Tonight, Clinton basked in adulation and sought to transfer some of that glory to a struggling president.
"The most important question is, what kind of country do you want to live in?" Clinton asked the crowd. "If you want a you're-on-your-own, winner-take-all society, you should support the Republican ticket. If you want a country of shared prosperity and shared responsibility—a we're-all-in-this-together society—you should vote for Barack Obama and Joe Biden."
Clinton has always been more effective than Obama at delivering a political message, and his gusto and frequent ad libbing only dramatized this talent. Officially, Clinton's business in Charlotte was setting the stage for Obama, which he made sure to get out of the way early on. (Unlike New Jersey Governor Chris Christie, Clinton's solipsism didn't emerge until later in the speech.) "I want Barack Obama to be the next president of the United States," he said, "and I proudly nominate him to be the standard bearer of the Democratic Party."
But Clinton's true purpose was to serve as attack dog, explainer, translator, and above all validator of Obama's presidency and fitness for another term. With party icons such as Ted Kennedy and Hillary Clinton absent or departed, Bill Clinton's presence here looms even larger than it did four years ago, when his endorsement of Obama, delivered to the party faithful in Denver, healed the bitter divide between his wife's supporters and those of the man who had just bested her.
Although Obama officials loathe questions about the two presidents' sometimes tumultuous relationship—Clinton himself today confessed it was "no bromance"—the former president is still integral to the fortunes of the current one. White House staffers willing to depart from talking points say that Clinton's validation of Obama's economic stewardship could carry as much symbolic import as his endorsement in 2008, only this time with ambivalent or disillusioned Democrats and independent voters rather than committed activists.
Clinton's joyous, aggressive, and characteristically lengthy stemwinder easily met the challenge. (I'm not in the habit of quoting David Gergen, but his quip afterward was dead on: "If the electorate is still movable, he moved it.")
In the runup to Clinton's speech, there was a good deal of press/politico handwringing about what he might say and whether or not he would undermine Obama in an effort to guild his own legacy. Some of this was manufactured media drama. But the Clinton-Obama rift has never fully healed, and the Obama officials I spoke with were genuinely nervous. They needn't have been. The interests of the two presidents have converged in this election and in tonight's speech: Clinton's reputation is being further enlarged and deployed on Obama's behalf.
Before it's here, it's on the Bloomberg Terminal.
LEARN MORE