Why the 'New Normal' Is Getting Old
By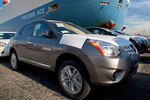 Three years ago, Pimco, the Jupiter-proportioned bond manager, famously diagnosed the low-growth, high-unemployment economic sobriety of the times as the New Normal. The timing of the communiqué was rather perfect: Joblessness and per capita self-doubt were soaring, while the stock market had just visited levels unseen since the mid-1990s. We were urged to get used to all this as an inexorable, chronically harsh reality. "It's time to grow up and become a chastened adult," wrote Pimco founder Bill Gross. "It's time to recognize that things have changed and that they will continue to change for the next—yes, the next 10 years and maybe even the next 20 years." Doubt pays: Thanks to the global macroeconomic dislocations of the past 40 months, and investors' record ardor for bond funds, Pimco has since swelled from $800 billion in assets under management to $1.8 trillion.
Still, this is not to say that the New Normal prophecy, which Gross first made in May 2009, has been spot on. It has certainly enjoyed spurts of vindication, like last year's U.S. credit downgrade; record-low Treasury yields and some negative interest rates; and unemployment remaining this high this long for the widest stretch since the 1950s, despite the Federal Reserve's unprecedented stimulus campaign. After posting a bum 2011, Pimco's $270 billion Total Return Bond Fund has resumed its category-killing ways; Gross and Co. know how to put a fresh buck to work. But as more market and economic readings revert to old, familiar normalcies, Pimco finds itself tacking explanatory asterisks onto its original prediction. Is it maybe time to retire the New Normal phrase—now overused past the point of cliché—altogether?
Consider the data points. Since May 2009, amid a period of consistently lackluster economic growth, the S&P 500 has staged a 60 percent run. Last month, Gross chimed in to throw fresh doubt on the dependability of equity returns, arguing that past long-term outperformance was a fluke that defied the laws of economic physics—a disconnect that was unlikely to resume in this chastened day and age. "The cult of equity," he wrote, "is dying."
That position drew criticism from an unlikely corner: Boston-based GMO, the big asset manager headed by the consistently sober Jeremy Grantham. Last month, Ben Inker, the group's head of asset allocation, penned a white paper (pdf) in which he wrote, "Disappointing returns from equity markets over a period of time should not be viewed as a signal of the 'death of equities.' Such losses are necessary for overpriced equity markets to revert to sustainable levels, and are therefore a necessary condition for the long-term return to equities to be stable." He then presented data on the relationship of stock returns with economic growth. "In short," he wrote, "there isn't one. Stock returns do not require a particular level of GDP growth, nor does a particular level of GDP growth imply anything about stock market returns."
Today, Gross responded with a commentary that essentially says: Don't get me wrong—both stock and bond returns were likely to disappoint in this stingier era. Still, he wrote, "If I were an individual investor, I would do this: Balance your asset mix according to your age. Own more stocks if you are young, but more bonds if you are in your 60s, like myself." In other words, follow that old personal finance rule of thumb.
On Tuesday, James Paulsen of Wells Capital Management, brandished boffo auto sales data—consistent with cyclical snapbacks during the past 30 years—as a "reminder that some things are 'normal' about this recovery." He wrote: "Despite all the angst surrounding this economic recovery, chronic suggestions the U.S. consumer would take years before returning to normal spending patterns (particularly as it regarded big-ticket durable goods) and despite the Cash-for-Clunkers program pulling future sales forward, the contemporary U.S. automobile recovery has been every bit as good (or same old-normal) as either the early 1980s or early-1990 recoveries. … This important part of the US economy is doing … well, quite 'normally'!"
Household deleveraging, a painful fact of life in the New Normalcy, continues. But at the same time, corporate releveraging has been all the rage—so great are the terms and so desperate are investors for yield. Since the end of August 2008, the face value of debt in the Bank of America Merrill Lynch global index has jumped to $3.4 trillion, from $2.15 trillion.
Back to existential-economic navel-gazing. When does it get back to normal? Is what we're in actually normal? Was it ever normal? Name that year. In the meantime, NBC is about to introduce a series called The New Normal. When and if it gets cancelled, Bill Gross might wish to do the same for his catch phrase.
Before it's here, it's on the Bloomberg Terminal.
LEARN MORE