The Convention Hall-Pass Shuffle
By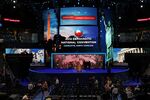 Walking around Charlotte, N.C., it's impossible to miss the array of badges suspended from people's necks. Small badges, ridiculously large badges, some in fancy plastic cases, others on multiple lanyards. Though they're certainly geek status symbols, the badges actually serve a function—getting passholders past the epic, Supermax-level security and granting them access to events. Luckily  my old middle school buddy, Jeff Millman, a political consultant and former delegate from California, graciously offered to be my badge guide, based on his experience at the past three conventions.
The first thing you need to know to avoid tipping others off to your greenness at the convention is that these keys to entry are called "credentials," not "passes," or heaven forbid, "tickets." Credentials  prove that, you know, you're important. All delegates get credentials to the convention floor, which is where everyone wants to be—up close to the action and all the hubbub. Donors and those from important constituencies such as unions or women's groups get credentials, too. That means there's a big pool of these plastic badges floating around. Just not enough for everyone who wants in.
As Millman explains it, that paucity of credentials leaves those on the outs plotting how to get their hands on the coveted placards. "Everybody and their brother is chasing credentials," Millman says. That means middle-aged lobbyists end up scheming like teenagers trying to sneak into a bar. A few common strategies:
The Shuttle: Several people enter the arena with their badges. Once they're inside, one person collects the badges from the others, exits the convention hall, and gives those extra badges to friends. They all enter the arena. Repeat. (O.K., so maybe the security is more junior high detention than Supermax.)
The Sloppy Seconds: There are different levels of credentials. Some get you into the arena's perimeter, but not inside. Others grant inside access in general, but not to the stands. Still others get you into the upper levels, but not the floor. The Holy Grail is the podium credential, which can get you pretty much anywhere you want. When someone obtains a better credential, they donate their lesser pass to a friend.
The Beg: When in doubt, call in favors. There's lots of begging going on.
Just because you get a credential doesn't mean you'll get in. Millman explains that because more people enter than there are badges (see: "The Shuttle"), "the fire marshal always closes things down." So go early or risk being locked out. Or watch it on TV. The view's better, it's not hot and crowded, and it's a way shorter trip to the bathroom.
Before it's here, it's on the Bloomberg Terminal.
LEARN MORE