President Obama, You're No Barack Obama
By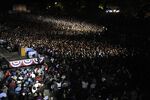 We knew how steep our climb would be. But I also knew this: I knew that the size of our challenges had outgrown the smallness of our politics.
—Senator Barack Obama, speaking in Highland, Ind., Oct. 31, 2008.
You can never go back.
If the president could capture, ever so possibly capture that October evening of four years ago, what would he do? And what would we do?
I recall understanding, in disbelief, that some 40,000 people had attended on a drizzled evening in a town square in a state tilting to McCain and Lugar—less Lincoln. They attended a moment. They attended a dawning of our collective history.
Whatever your persuasion, the Highland, Ind, speech was different. (One part William Jennings Bryan; one part Obama's Berlin of the same year on July 24; one part we will understand only in 40 to 50 years.)
The "I hope" has become "I am." The "audacity" has made way for incumbent "calculation." "Change" is something Secretary Hillary Clinton will worry about on the Syria watch.
As any president, this one must reinvent himself. Republicans hate him with a one-term passion. Nervous loyalists hope for two-term fortune. The demoralized of 2008 search for an audacious senator who in 2012 must re-earn their trust so that they may turn out.
He cannot mail in this week's speech. (For his supporters—and surprisingly, his detractors, in search of a passion to rally against.)
For Democrats and for the assembled 40,000 of that All Hallows' Eve, he must understand this: To be reelected, President Obama, you're no Barack Obama. Discuss.
Before it's here, it's on the Bloomberg Terminal.
LEARN MORE