business
For MBA Applicants, the Campus Visit Is a Must
Rose Martinelli
For MBA Applicants, the Campus Visit Is a Must
Rose Martinelli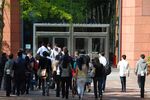 Now that the vast majority of MBA programs are in session, it's time to talk about the role of the campus visit as part of your application process. A number of weeks ago in this blog, I covered the process of identifying and selecting schools that are a good fit for your interests and aspirations. Now that you've narrowed your choices to schools to which you plan to apply, it's time to consider whether a visit might be a worthwhile investment.
While a campus visit is not required as part of the application, it does provide you with valuable information. Just like each applicant, every school has a distinct "personality" that cannot be captured in a website, brochure, or chat or discussion forum and should be experienced first-hand. The visit provides you with an opportunity to test out your impressions of the students, facilities, faculty, and general sense of community. Second, it allows you to visualize yourself at that school, which may help in communicating why you believe you (as an applicant) would be a good fit to that community, enhancing your ability to write your essays.
Those who are unable to find the time or resources to visit each campus (international students, for example) should try to visit with local alumni or attend receptions held by these schools in the area. You should be able to get a sense of the community through interactions with alumni and staff.
Once you've visited your set of schools, try to answer why you feel that a particular school's features meet your needs for an MBA from both a personal and professional perspective and how you see yourself contributing to that community. Ultimately, understanding your needs and how a particular school meets those needs should be the objective of your visit.
So when should you visit? I would encourage you to visit when class is session so you can interact with students throughout a full day (attend classes, etc.). While many applicants will not make a visit until after they are admitted to a particular program, I would still encourage you to make a regular campus visit in addition to admitted student events. It's best to see the campus without all the extra activities and polish of admitted student events. Whether you decide to visit before you apply or after you're admitted, you should make the trip (if at all possible) before you make your final decision. The MBA is a significant investment, so make sure to conduct your due diligence in researching and visiting schools.
Join the discussion on the Bloomberg Businessweek Business School Forum, visit us on Facebook, and follow @BWbschools on Twitter.