economics
Draghi Proposes 'Unlimited' Bond-Buying, With Strings
Spain must keep cutting its budget deficit
By
Draghi Proposes 'Unlimited' Bond-Buying, With Strings
Spain must keep cutting its budget deficit
By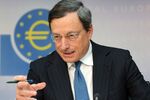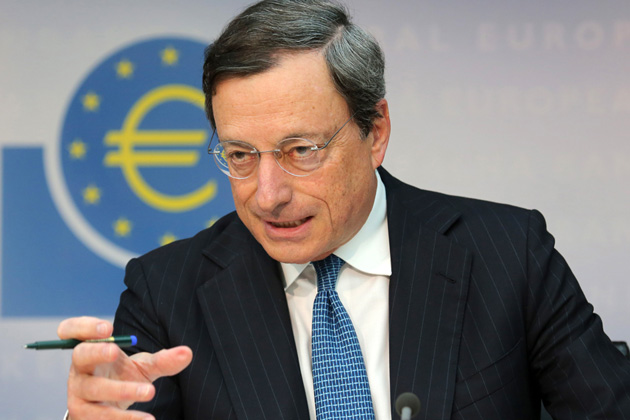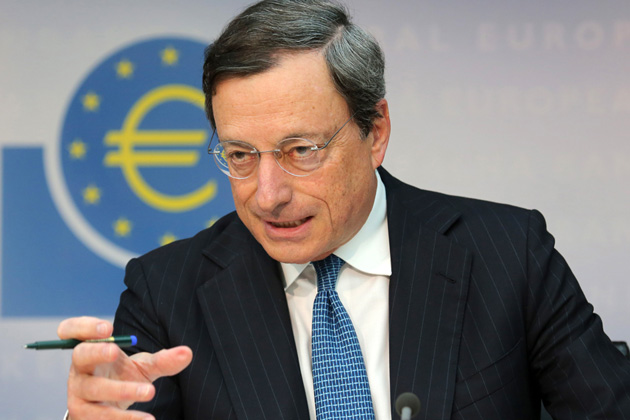 European Central Bank President Mario Draghi is offering what seems to be a breathtakingly open-ended commitment to buying government bonds of troubled European nations. But there are strings attached.
To get aid from the bank, Spain—the nation currently in the market's cross hairs—must keep its promise to erase its budget deficit. Trying to balance the budget right away is likely to worsen Spain's already severe economic slump. In short, the benefit of ECB bond-buying will be at least partially offset by the harm from contractionary fiscal policy.
Bloomberg News reported today, quoting two unnamed central bank officials, that Draghi favors buying sovereign debt to push down interest rates and lower nations' borrowing costs. He's against setting a limit on how much the ECB might buy—presumably because that would give speculators a target to shoot at. Draghi's plan goes against the wishes of Germany's central bank, the Bundesbank, which says the bond-buying is tantamount to financing the nations' budgets, which is against the ECB's own charter. But the Bundesbank doesn't have enough votes on the ECB governing council to prevent Draghi's initiative.
Policy makers are deliberating the plan, and Draghi expects to announce their decision on Sept. 6.
In a perfect world, in which Spain's word was trusted around the globe, the Spanish government would get permission to run big budget deficits now, while its economy is weak, in exchange for a promise to eliminate deficits in a few years when growth resumes. But Spain has blown its credibility by failing to live up to its commitments to date, says Duke University economist Juan Rubio-Ramirez, a Spaniard. So official and private lenders are demanding to see immediate action from Spain before they extend more credit.
"Is that going to put the economies in a bigger hole in the short term? Yes. There's no question about that," says Rubio-Ramirez. "But first things first. Without solving fiscal problems, nobody's going to buy that debt, so it's impossible to grow."
Spain should be able to stick to its budget commitments, although not without pain, says William Cline, a senior fellow at the Peterson Institute for International Economics. In July, euro-area finance ministers gave Spain an extra year, until 2014, to get its budget deficit below 3 percent of gross domestic product.
In Keynesian economics, a decline in government spending or increase in taxation sucks demand out of the economy, causing output to fall. Argues Cline: "They've got more to gain by reducing the risk spread [extra interest expenses] than they have to lose by normal Keynesian considerations. … The real kiss of death," he says, is if private lenders conclude that official lenders are going to demand priority in repayment in exchange for new lending.
That would undermine the value of existing debt and cause borrowing costs to soar.