A Mutual Fund Star (Remember Those?) Calls It Quits
by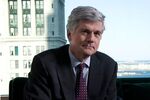 Vanguard announced the retirement this morning of Edward P. Owens, who has managed its $22.4 billion Vanguard Health Care Fund since its launch 28 years ago. Owens, 65, had become something of a legend in the world of mutual funds, delivering steady returns on investments in hospitals, HMOs, and drug makers—over a period stretching from mutual funds' heyday in the 1980s and '90s to the less glamorous era of today.
Vanguard boasted that Owens's fund had an average annual total return of more than 16 percent since its birth on May 23, 1984, while the S&P 500 index offered less than 11 percent. Notably, Owens notched annual successes while avoiding the kind of wipeouts that have befallen other boldface fund names, such as Kenneth Heebner, Bruce Berkowitz, and other stars.
Owens "is among probably the longest-serving mutual fund managers of any fund, let alone health-care funds," says Christopher Davis, a mutual fund analyst for Morningstar. "Ed Owens also has one of the best records of any mutual fund manager over his tenure." Adds Davis: "He's a thoughtful, modest, humble person. Those are things that are ingredients behind being a successful investor."
"Ed's long-term track record of excellent returns puts him in very select company in the investment management business," Vanguard Chief Executive Bill McNabb said in a statement. "We are indebted to him for his decades of distinguished service to our clients."
Owens is retiring as a partner in the Boston firm Wellington Management, which manages 20 Vanguard funds. His replacement is Jean M. Hynes, who has helped manage the fund for nearly 20 years, Vanguard said. Although mutual funds are no longer the darling of the investment community, they remain a nearly $12 trillion industry.
Before it's here, it's on the Bloomberg Terminal.
LEARN MORE