Why Amazon Must Light a Fire Under the Kindle Fire
by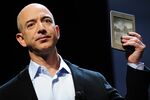 Five years ago this fall, Amazon Chief Executive Officer Jeff Bezos gathered the tech press in a New York City hotel and asked, "Can you improve on something as highly evolved and well-suited to its task as the book?" With that, he introduced the very first Kindle, a goofily angular device with a monochrome screen that nevertheless revolutionized the book business, boosted Amazon's financial performance, and reshaped expectations of what everyone had previously thought was a simple online retailer.
On Thursday, Sept. 6, Bezos will again speak to the media, this time in Santa Monica, Calif., and the stakes will again be sky high. A year ago, to great fanfare (and a cover story in Bloomberg Businessweek) Amazon expanded its Kindle franchise by entering the tablet market with the Kindle Fire. The device, with a 7-inch display and the surprisingly modest price tag of $199, made a commercial splash, carving off a respectable piece of the tablet market from Apple's iPad, the market leader. But the Kindle Fire was also something of a critical disappointment, with its chunky weight, bland industrial design, and lack of basic features like a camera and volume controls. Lately, Amazon has gamely tried to stoke the Fire's fire—pointing to the number of five-star reviews on its own website. But if you look at the entirety of those reviews or talk to people who actually own the product, another conclusion is unavoidable: For the first time, many customers bought a device from Amazon and felt they didn't get much value from it.
Now the tablet landscape has changed and the terrain is even rougher. This summer Google introduced the Nexus 7, a similarly sized and priced device with none of the drawbacks of the first Fire. Taking a page from Bezos and Co., Google has also started to advertise the product on its home page, one of the most well-trafficked on the Web. Even more challenging, Apple will reportedly lay down the gauntlet in the new micro-tablet market with an iPad Mini later this fall. If tablets are to be an important gateway to music, movies, e-books, and games—media products that make up half of Amazon's overall business—Bezos is going to have to build a much deeper moat.
It's a battle that highlights the fascinating distinctions between the technology juggernauts of our time. Apple's advantage is its unsurpassed design prowess and its closed but comprehensive ecosystem, which provides a safe and satisfying digital playground for its fanatical fans. Google's strength is raw technology muscle—the genius that has led to the creation of the Android platform, a blisteringly fast search engine, and innovations like Street View and Google Goggles, an app that photographs and identifies real-world items.
Amazon comes to the battle with its own assets, though. Bezos and his executive team are unsurpassed business strategists, subsidizing the cost of devices with advertising and tying up the loyalty of their best customers with Amazon Prime, the $79-a-year free shipping service, and then hanging perks off that service like the free Instant Video streaming service. Amazon is also a master of the margins, willing to sacrifice profitability for market share. And it's quick to identify and exploit new markets (like 7-inch tablets) before its U.S. rivals.
So will there be any surprises in Santa Monica? Others have highlighted the obvious and inevitable: There will be a new line of basic Kindle e-readers, expanding on the franchise started five years ago and adding new perks like a backlit reading display. Prices will come down, but I doubt the Kindle will be free: Three major booksellers have settled a lawsuit with the U.S. Justice Department over colluding to raise e-book prices. When a judge approves the settlement, Amazon will be free to drop prices on their e-books back to $9.99, below the wholesale price. I doubt Bezos and his financial minders are eager to resume losing money on both the razors and the blades.
Since the event is in Southern California, I suspect we'll hear much more about Amazon's video ambitions, perhaps from its L.A.-based content creation arm, Amazon Studios, and its director, former Disney exec Roy Price. Other possibilities include a long-rumored Amazon phone, or even an Amazon set-top box for the TV. But I suspect those remain science projects inside Lab 126, the company's Silicon Valley-based hardware development subsidiary. Will we see Amazon move away from its reliance on Google's Android operating system to run devices like the Kindle Fire? Relying on Google is a shaky long-term strategy, but there aren't obvious alternatives. Bezos could move closer to Microsoft or even Research In Motion, but those companies' platforms have not caught on with application developers, and licensing a mobile operating system comes with its own problems and dependencies.
One thing is for sure. Five years ago, Amazon's mission was to reinvent reading and pioneer a new product category. Those were the good old days. Now it's swimming with the sharks.
Before it's here, it's on the Bloomberg Terminal.
LEARN MORE