What If You Could Handpick Everyone in Your Shared Office?
by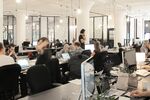 Award-winning New York designer Dror Benshetrit, whose clients have included Italian design firm Cappellini, luggage maker Tumi, and Target, is assembling his own creative mini-kingdom. Co-working space company WeWork asked the cross-disciplinary designer to handpick about 200 innovative tenants based on portfolios, rather than financials, for an experimental new space called WeCross, where Benshetrit's studio will also relocate. It is set to open in October and will occupy one floor in WeWork's building in the Soho neighborhood of New York.
These paying tenants, or "members" as WeWork calls them, don't necessarily work on projects together, but the goal is to gather "selected innovators" from various disciplines including design, architecture, graphic and new digital technology, and communication to create an environment that "fosters creative and cognitive ideas as well as innovative design," according to the WeCross website. The company has a similar program for tech startups called WeWork Labs that is "curated" by entrepreneurs Jesse Middleton and Matt Shampine. Sounds sexy, if also a bit exclusive for commercial real estate.
What are you looking for in an applicant?
Dror Benshetrit: It's a mix of different things. In the studio, I say the best team is left-brainers and right-brainers working together. A young, ambitious person right out of school next to someone who has been professional for many years. I like a kind of eagerness to try and a certain naiveté about what's possible, as well as a more conservative approach to certain challenges that happen from time to time. We welcome both. An entrepreneurial spirit is something we're interested in—people who like this kind of exchange that doesn't exist outside of school.
It's like an audition. Like American Idol, except for office space.
Maybe. You're always auditioning. When you try to gain a new client, you're always competing. We're constantly trying to promote our beliefs and capabilities and talent.
What about shy people?
Most people in my studio are extremely shy. They work by themselves, but by the physical presence of others … say you're not by your desk, but you leave your computer screen saver on a project you'd like to highlight. People can see the things that you've worked on and they are triggered to talk to you. There will be a lot of shy people who will find different ways to highlight their capabilities. They'll knock on each other's shoulder to say, "Hey, what are you doing?"
I hope you have good taste in co-workers. People are trusting you.
I hope so! We are getting applications from people we haven't even thought about. That's great. That's what we try to welcome.
How many people will be selected?
The floor allows for 200, 210 members. About 150 seats are open seats in the center of the floor. It's a communal-style working environment. There are also different office sizes for two, four, or six people. Since membership is on a month-to-month basis, if your company is shrinking or growing, you can rent more or less space. They can stay for as long as they want.
How many seats have you filled?
We got a couple of hundred applications already and just accepted 40. We will have to see if they are coming.
Did you ever think about not charging rent, since this environment will be beneficial to you?
I don't know how it would be possible. The model is a rental space. WeWork is typically a rental space. We're adding curation to say if you are somewhat our style and approach, you'll likely be like the other people on the floor. But everyone is on the floor for their own agenda.
Are you worried about seeming exclusive?
It is somewhat exclusive. When you get accepted into MIT, it is an exclusive school with a very hard acceptance process. Once you are accepted, you get the benefit of being exclusive. It's fine to be, it's inevitable to be exclusive.
Before it's here, it's on the Bloomberg Terminal.
LEARN MORE