Netflix Would Like Very Much to Change the Channel
by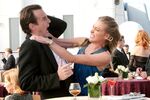 Shares of Netflix closed down on Tuesday. Again. This time, it was due to the news that one of its exclusive suppliers of movie rights has signed on with Amazon's rival streaming-video service. Netflix shares fell $3.79 a share, or 6 percent, on Tuesday and have lost more than 80 percent of their value since hitting an all-time high just 13 months ago.
By horning in on the Netflix supplier—Epix, a consortium that controls the rights to such hits as The Avengers and The Hunger Games—Amazon has just made Netflix's library a little less special and a little less worth subscribing to. Another contract with Starz went nonexclusive earlier this year. Analysts who are pessimistic about the Los Gatos, Calif., company see a bad trend in which Netflix's library of movies and TV shows gets gradually replicated by Amazon, Redbox Instant, Hulu, iTunes, and other video services. If the companies all offer similar content, the only way they can compete is on price, and Netflix—with no hardware sales or advertising revenue to rely on—would probably not fare well in that contest. A subscription to Amazon Prime costs $79 per year and includes free two-day shipping for the site's physical goods, while Netflix costs about $96.
One way out of that death spiral is original programming. As I wrote in a Newsweek feature in May, Netflix is attempting to reinvent itself as the HBO of the Internet with five original series. Each has a premium gloss: House of Cards, a political drama, stars Kevin Spacey in a pilot directed by Oscar nominee David Fincher; Arrested Development is a resurrected critical darling; and addditional programs boast such Hollywood talent as Eli Roth (Hostel) and Jenji Kohan (Weeds).
As cable network AMC proved with Mad Men, a single, buzzy, breakthrough hit can reinvigorate a channel. That would be essential for Netflix, whose stock price is driven by increases to its domestic streaming subscriber rolls, which currently stand at 24 million. The first all-original Netflix series won't launch until early 2013, though. Until then, news about the company's stock may continue to be shelved under "horror."
Before it's here, it's on the Bloomberg Terminal.
LEARN MORE