How I Got Here: Care.com's Sheila Marcelo
Kate Abbott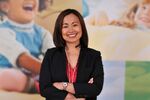 Harvard Business School grad and Care.com founder and Chief Executive Officer Sheila Marcelo worked at two Internet companies before finding the confidence to go out on her own. While building Care.com, Marcelo called on lessons learned both in B-school and in her consulting career. To date, the website, which matches families with caregiving professions and launched in 2006, has raised $111 million in investment funds. Marcelo currently sits on the alumni board at HBS and is a finalist judge for the school's annual business plan competition. As part of Bloomberg Businessweek's "How I Got Here" series, Kate Abbott spoke with Marcelo about her upbringing, her career path, and how she has stayed involved with her alma mater. Some quotes have been edited for length and clarity.
What path did you take to become an entrepreneur?
I'm from an Asian family with six kids, and we all had designated professions: One would be the doctor, another the dentist, the accountant. I was the designated lawyer. After working in consulting, I applied to Harvard Law and was accepted. I deferred for a few years, and worked in litigation consulting. Then I got into telecom consulting, where I fell in love with technology. Harvard came knocking because I couldn't defer law school for more than two years. After my first year of law school, I decided I wanted to pursue business, so I applied to the MBA program, and then applied to the joint program (JD/MBA) to get my degree in four years instead of five. I only applied to HBS because I was already at Harvard Law.
What drew you to technology?
I was exposed to Internet business plans in the late 1990s and I found them intriguing. After graduation from HBS, I really wanted more operational experience, so I joined a company called Upromise. I wanted to work somewhere focused on the family space, given that I had two kids. I started as a product manager, because I didn't have any experience [in the field]. Many HBS grads immediately want a title, but I didn't feel that I deserved that yet. At the time, I was their eighth employee; I turned down another high-paying job to do it.
At what point did you feel that you were ready to launch your own business?
I certainly didn't always think I was ready for every promotion I received. In every stage I questioned whether I had enough experience or exposure. Most men automatically raise their hands to say they're ready for a promotion. I knew I wanted to be an entrepreneur one day, but it wasn't something I knew right away.
What B-school lessons helped the most when launching Care.com?
People fear finance courses or marketing courses or anything they're not already exposed to. Embrace being a generalist. If you want to be an entrepreneur, don't underestimate the value of skills learned in those classes. Be comfortable with networking and selling and try not to think of them as bad words. The majority of my job as an entrepreneur is selling and networking.
Also, learn to work as a team. Study groups outweigh classroom participation. When in school, find mentors and reach out to the alumni database. It's better to do as a student because when you're out in the real world, there's a sense that you have an agenda. As a student, your agenda is to ask for help.
As a finalist judge for the annual business plan competition, what makes a successful pitch?
There needs to be awareness by students to develop a product with a group of people that's cross-disciplined: Bring in engineers from MIT or students from Harvard Med. Data surveys are becoming faster and cheaper, so use them to make the business plan feel more tangible and real.
Final word
Don't let the business school Kool-Aid go to your head. There's this concept that when you graduate, especially from top schools, that you're ready to conquer the world. There's an elitism that sets in, and so much of leadership is helping other people and being selfless. That's not a transition business school students are comfortable with.
Before it's here, it's on the Bloomberg Terminal.
LEARN MORE