Bernanke Should Have Stayed Home
by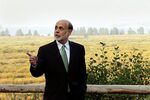 What appears to be developing, then, at the turn of the century, is a new consensus in favor of a monetary policy that is disciplined by clear rules intended to ensure a stable of standard value, rather than one that is determined on a purely discretionary basis whatever ends may seem most pressing at any given time.
Michael Woodford, Interest and Prices: Foundations of a Theory of Monetary Policy, Princeton University Press, 800 pages, 2003
Clear rules, 800 pages…
A famous economist, he named his cat Poterba, once said to me of young Woodford's opus, "Everyone owns it, but no one has read it." I have dived into the quadratic pool feet-first, but alas I have not finished it. (I will attempt to read his 97-page Jackson Hole manifesto but…)
For a cogent first look at why total growth, growth plus inflation, matters see Weisenthal here, and Matthews there, as everywhere nerds (Darda and Feroli lead) prattle on about What to Do.
Do this.
Please understand that academics can establish models and cubic guesstimates of certitude. Mere mortals, including Chairman Bernanke, have to work with Barack, Mitt, Joe and Paul.
In addition, they have to work with non-modeled shocks like two skyscrapers falling to the ground, a bankrupt automobile industry and a collapse of the Boston Red Sox that borders on baseball hysteresis.
I adore Michael Woodford as I adore the late Angus Maddison. (Maddison is quadratic-free.)
I most adore a Chairman who is battling in the trenches of this persistent financial crisis and no doubt "enjoyed" the papers amidst the purple mountains majesty. Bernanke should of stayed home. Discuss.
Before it's here, it's on the Bloomberg Terminal.
LEARN MORE