Are We Already Falling Off the Fiscal Cliff?
Fears of trouble are chilling growth
By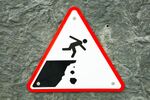 Is it possible to be injured falling off a cliff before you even get to the edge? In the real world, no. But in the economy, yes. There is increasing evidence that businesses are already turning cautious out of fear over the fiscal cliff—that the $600 billion of tax hikes and spending cuts scheduled to take effect in early 2013 will chill growth in the new year. That caution is slowing the economy today—so the fiscal cliff is doing genuine damage before it's even been reached.
The latest evidence comes from the Federal Reserve's Beige Book, released on Aug. 29. According to a count by economist Paul Dales of Capital Economics, the Fed report has 12 mentions of the fiscal cliff. There was just one in April, but the number has steadily risen in the months since. The Beige Book is an anecdotal summary of businesses' views on economic conditions collected by the staff of the 12 regional Federal Reserve banks. The Philadelphia Fed, for example, said: "Many customers are delaying purchases due to uncertainty stemming from … fiscal policy. There are concerns about the impact of the fiscal decisions that will follow the election."
The fiscal cliff was a prominent topic at the monetary policy conference in Jackson Hole, Wyo. Federal Reserve Chairman Ben Bernanke said it was one of the "two main sources of risk" to the economy, the other being the European financial crisis. Harvard University economist Martin Feldstein, also in Jackson Hole, told Bloomberg Television that "if the fiscal cliff actually happens—which I don't think it will—but if it happens, then we get pushed into a recession. We are talking about knocking 4 or 5 percentage points off" gross domestic product.
All that's needed to prevent a policy-induced crash is for President Barack Obama and Congress to reach a deal that postpones or shrinks the scheduled fiscal retrenchment. But businesses, understandably, can't count on that happening. Writes Dales: "The negative impact on activity will only become more severe the longer Congress stalls and the closer we get to the end of the year."
Before it's here, it's on the Bloomberg Terminal.
LEARN MORE