A Top Beer Sommelier Assesses Obama's Home-Brew Recipe
Ben Paynter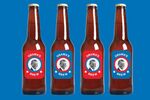 "That should be a peacemaker!" Such was the initial critique tweeted by Ray Daniels, one of the country's leading authorities on good beer, last Saturday after getting his first glimpse of the most closely, if not-so-seriously, guarded national secret of the summer: President Obama's own recipes for home-brewed libations.
The commander in chief's penchant for do-it-yourself booze has caused a buzz since August, when it became known that he keeps a stockpile of his own homemade, White House–branded beer aboard his campaign bus. As proof, Obama handed out a bottle of White House Honey Ale to a coffee shop patron who requested it at a tour stop in Knoxville, Iowa. And right now, using beer as a campaign prop makes particular sense: His opponent, Mitt Romney, is a Mormon teetotaler.
Technically, the White House brews three different beers—Honey Porter, Honey Ale, and Honey Blonde—all of which include honey from the First Lady's beehives on the South Lawn. After some rallying, petition signing, and even an absurd Freedom of Information Act request (the White House isn't actually subject to the FOIA) by beer geeks, the formulas were released on Sept. 1. Conspiracy alert: The recipe for Honey Blonde allegedly couldn't be located, so only the first two are out.
Daniels heads the Cicerone Certification Program for beer sommeliers, a series of de rigueur tests for brewers, servers, and distributors seeking industry acceptance. He also wrote Designing Great Beers, a how-to manual for home brewing. To that end, his Twitter comment referred less to the current beer geek coup than to each brew's actual potency. When reached by phone, he explained that the recipes should yield a drink that's more than 7 percent alcohol by volume, nearly 50 percent more than American lagers.
Yes, Obama's beer packs a wallop. But that's not the only not-so-subtle message with election-year undertones. According to Daniels's analysis, the beers also pay homage to our Colonial heritage. Both the porter and the ale follow an imperial format with a twist. "Putting honey in them is a very American bastardization, if you will," Daniels says. "It's almost the sort of thing that the founding fathers might have done to take a traditional recipe from England and innovate by adding some local, homegrown ingredients to it."
More important, while invented in a commercial kitchen—Obama reportedly bought a beermaking kit in 2011 and asked his chefs to help tweak recipes—the results are commonly accessible. Each batch makes about 5 gallons, or roughly 52 bottles, and calls for such basic tools as a three-gallon pot, the sort many Americans use for sauces or chili. "One thing I wonder about is if they are actually making it this way or whether they published the recipes in a consumer-friendly form," Daniels says. Those recipes also use malt extracts, a shortcut for brewers who don't want to mash grains by hand, which simplifies things tremendously. The result: "It's very much a recipe that a lot of people can brew at home," Daniels says.
By going with a porter and an ale, Obama is appealing to the widest segment of the beer-drinking population possible. "They are both pretty malty and on the sweeter side of the scale in overall balance," Daniels says. "That will certainly make them crowd pleasers or at least unobjectionable to a broad range of people." Because the porter has dark grains, it would also go well with just about anything that's roasted or grilled, particularly beef, he adds. And the Honey Ale pairs with just about anything, from grilled cheese to pizza, Daniels says: "It's pretty versatile; you could even have it with a club sandwich."
While it's generally not good public policy to misplace things (think: nuclear launch codes), Daniels says that among brewers at least, the mystery of the missing Honey Blonde recipe will likely give Obama street cred. "It's sort of in the tradition of home brewing that every now and then you make a great beer and don't keep very good records," he says. "You get done and say, 'Wait a minute, I'm not sure what I did here.'"
Before it's here, it's on the Bloomberg Terminal.
LEARN MORE