An Ugly Fall for Stocks?
By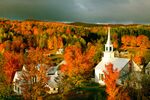 September is that cruelest month for the stock market.
It's the only month that has dropped on average since the Roaring Twenties. Come Monday night, when Wall Streeters shake out the sand from their wingtips—and Long Island Iced Tea from their livers—they will confront no shortage of doubt and risk. Europe isn't solved yet. Neither is that fiscal cliff thing. China's hurting—by extension, so, too, are Brazil and India. Volatility has spiked from recent five-year lows. And the Wall Street Journal is reminding us how this summer ominously resembles the one from 1987, when Madonna summed up the brewing disillusionment of a nation by pondering, "¿Quién es esa niña?"
The thing is, this September kicks off not with the requisite fear and doubt, but with confidence. U.S. markets are at highs not seen since months before the Great Meltdown of September 2008. Since the ensuing crash bottomed in March 2009, the Standard & Poor's 500-stock index has staged a 108 percent bull run. The October 2007 all-time high on the S&P 500 is now within sniffing distance. The Federal Reserve remains long-term loose. As far as U.S. stocks are concerned, things feel strangely fine.
Which is probably why you might want to give some of that old-time September doubt a chance.
Yes, S&P 500 companies are on track to post record earnings in 2012. But with second-quarter earnings actually the weakest in three years, according to data compiled by Bloomberg, analysts have had to tamp down their profit expectations, from $105.27 a share at the start of the year to $103.18 now; they're calling for just over $115 a share in earnings next year.
Is there enough growth left in this corporate earnings cycle to get to that number? Or are traders complacently thinking that several further seasons of meet-or-beat is a given? The market's done so unexpectedly well this year—the S&P 500 is up 11 percent just since June—that it is now at its highest level ever, compared with the forecasts of Wall Street strategists.
For a change from last decade, the U.S. has outperformed emerging markets for the better part of two years, thanks in large part to the fizzing down of enthusiasm for the BRIC story and developing economies' reliance on exports to Europe.
Better them than us, yes. But can this divergence continue when S&P 500 companies on average get 46.1 percent of sales abroad, according to an analysis by S&P Dow Jones Indices' Howard Silverblatt? Tech companies depend on foreign markets for 57 percent of revenue; the tech-heavy Nasdaq is up 18 percent this year. The miasma of euro weakness and China's torpor has already hurt the earnings of such stalwart U.S. multinationals as McDonald's, Intel, and Procter & Gamble.
None of which are particularly new risks. But they have largely been conveniently deemphasized in a summer marked by light trading, less day-to-day news out of Europe, and yes, the continued ascent of Apple, which is the world's most valuable company and the biggest single weight on the S&P 500. If history is any guide, September won't suborn such relaxation.
Before it's here, it's on the Bloomberg Terminal.
LEARN MORE