Maple Syrup Heist Leaves Quebec in a Sticky Mess
By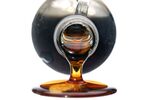 Anyone who has ever craved a dose of maple syrup—the real stuff, not the high fructose corn syrup that comes in a container shaped like a matronly woman—already knows it's the nutritional equivalent of liquid gold. There's that earthy sweet taste. There's the price, which can easily reach $60 a gallon or more.
But few appreciate the strategic value of boiled sap like the people of Quebec. Canada's francophone province is the Saudi Arabia of the syrup world, producing some three-quarters of the world's output. With the global market under stress—U.S. production is down 32 percent this year to 1.91 million gallons, according to the Department of Agriculture (PDF)—perhaps it was only a matter of time before thieves targeted Quebec's rich reserves.
The puzzle is how the culprits managed to siphon off almost C$30 million ($30.4 million) of syrup. That's the equivalent of 10 million pounds or roughly 15,000 barrels of syrup. And the stock didn't vanish somewhere in the supply chain of a major city. It's missing from a warehouse in Saint-Louis-de-Blandford, a tiny town of 903 people, according to the 2011 Census. They're usually more focused on cranberries, whether it's harvesting them or celebrating them in cranberry festivals.
So imagine the surprise when a "routine inventory check," as the Federation of Quebec Maple Syrup Producers (FPAQ) calls it, revealed evidence of a massive heist. Row after row of barrels were empty, filled with nothing but sweet-smelling Quebec air.
Now it's the federation that has some explaining to do. These are the protectors of the sap, the maple barons who have an OPEC-like sway in syrup circles and represent some 13,500 producers. Along with handling bulk syrup sales and marketing, the federation is responsible for what it calls the "global strategic maple syrup reserves." Much like oil reserves, those backup supplies are supposed to protect against the vagaries of bad weather and volatile prices. Last week, everyone thought Quebec was heading into the winter with 37 million pounds in reserve. More than a quarter of that is now gone.
No wonder these folks find themselves in what many might call a sticky situation. Federation President Serge Beaulieu, in a release, said his group "always acts with caution to protect producers' harvests." FPAQ is currently outfitting a factory that will store its inventory. Although the pilfered warehouse was one of several temporary sites, he added, it was "secured by a fence and locks, and visited regularly." The stolen material was, of course, fully insured. (Executive Director Anne-Marie Granger didn't respond to e-mail and phone requests for comment.)
But make no mistake. The federation understands the gravity of the situation. As FPAQ noted, "several American states saw a very low, indeed catastrophic, harvest during the 2012 season. The Quebec harvest, however, remained normal." As USDA statistician Hernán Ortiz explains, "the season ended too early for many producers because of a heat wave in late March." Does Ortiz see any link between the syrup crisis and the massive haul? "It seems like a hard thing to steal," he says, "but maple syrup is becoming more popular in Florida and other places."
Aha! Keep an eye out for a surge of sweet stuff down South. Trouble is, unlike laundered money, maple syrup doesn't come with a serial number. In fact, food is proving to be a remarkably easy commodity to steal. Bristol Voss of Minyanville notes that, in Canada alone, thieves have recently made off with a "football field's worth" of potatoes, hives containing 3,600 kilograms of honey, 6,000 cattle, and 72,000 kilograms of chicken. Anyone who loves maple syrup knows the real stuff needs more than just a lock and key.
Before it's here, it's on the Bloomberg Terminal.
LEARN MORE