Here Comes the MDA's Non-Jerry Lewis Non-Telethon
The legendary fundraiser gets with the times
by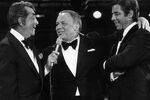 For 45 years, the Jerry Lewis MDA Telethon was, as advertised, a televised fundraiser for the Muscular Dystrophy Association hosted each Labor Day weekend by Jerry Lewis that went on for the better part of a day. Viewers who were so inclined could count on seeing funnyman Lewis test the limits of his stamina, sweat, loosen his tuxedo collar, flub lines, and dip into his bag of, shall we say, old-fashioned jokes. Last year that began to change. The MDA said farewell to Lewis, opting instead for a quartet of co-hosts, and cut the telethon back to six hours. This year, as part of a continuing effort to get with the times, it's dropping the telethon label entirely.
"TV is not the same anymore," says MDA Executive Vice President Kevin Moran. "When I was a kid, you would watch TV until 2 o'clock in the morning and they would play the national anthem and sign off and you couldn't watch anymore. Now there's entertainment nonstop." So this Sunday night, the MDA will air a three-hour prime-time special called Show of Strength on 150 stations across the country. The charity has also abandoned the live format. Performers and celebrities, including Carrie Underwood, Pitbull, will.i.am, Carole King, Gavin DeGraw, Karmin, and Khloé Kardashian Odom, came to CBS studios in Los Angeles earlier this week to tape their segments.
The changes, says Moran, are part of an effort to "cast a wider net." The flexible taping schedule also helped draw better talent. "This is far superior from what we've done in the past," he says. The MDA's bet is that its loyal, older viewers and donors are more likely to watch a new crop of performers than young donors are likely to suddenly discover Jerry Lewis and friends. "Some of the performances that we had in the past," says Moran, "my son would not sit through. But the performances that we have today, my mother would sit through and enjoy."
The MDA's move is part of a broader trend in fundraising (chronicled in Bloomberg Businessweek's feature this week on Invisible Children and the Kony 2012 phenomenon). The new holy grail is a Millennial ready to text a $10 gift to the latest cause celebre. "Telethons are a little bit old-school," says Charity Navigator's marketing chief, Sandra Miniutti. "Charities are really using social media applications to stay in people's faces much more." Moran says the MDA is still searching for "the magic bullet" that would help its cause go viral. "We all have promotion envy," he says of Kony 2012 and other success stories. "I wish I thought of the pink ribbon and the yellow bracelet."
In the meantime, this year's show will be as much about what you don't see: overlong transitions, stalling, repetitive phone appeals, and a running tote board. (The telethon raised $61.5 million last year.) "It was almost like we closed our door for business," Moran says of the tradition of posting the grand tally. "To the American people it was 'OK, they're done,' and we don't want to be done."
Before it's here, it's on the Bloomberg Terminal.
LEARN MORE