Condi Rice Is Wrong About Free Trade
By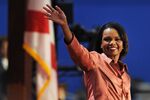 In her rousing, passionate speech at the Republican National Convention, former Secretary of State Condoleezza Rice made some tough assertions about President Obama's record on free trade:
In the last years, the United States has ratified three trade agreements, all negotiated in the Bush administration. If you are concerned about China's rise, consider this fact: China has signed 15 free-trade agreements and is negotiating 20 more. Sadly, we are abandoning the playing field of free trade. And it will come back to haunt us.
It would, if it were true. No doubt President Bush deserves much of the credit for the three trade deals the U.S. ratified in October 2011: The free-trade agreements with South Korea, Panama, and Colombia were negotiated and signed by 2007.
But Bush wasn't able to get them through Congress. Before he left office, congressional wrangling led the agreements to stall. The South Korean deal was particularly tricky. Unions and U.S. automakers had objections to provisions that reduced tariffs on South Korean cars, and the South Koreans feared American beef exports because of mad cow disease. In the Colombia deal, Democrats wanted more workers' rights protections. The Obama administration was able to renegotiate the deals, get over the worst hurdles, and get a Republican Congress to pass them.
China has been signing free-trade deals at a faster rate, and Rice is correct that it's cause for concern. Part of the reason for that is, unlike American officials, Chinese diplomats don't have to submit their trade agreements to a lengthy Democratic process of deliberation.
But it's hard to accuse Obama of taking the China trade threat lightly. The administration is in the midst of negotiating what could be the most ambitious free-trade deal ever. The Trans-Pacific Partnership involves nine countries, including Singapore, Australia, and Vietnam. If it goes through, the treaty will pave the way for a lot more U.S. investment in the region, challenging China's dominance there. Hardly, as Rice said in her convention speech, "abandoning the playing field of free trade."
Before it's here, it's on the Bloomberg Terminal.
LEARN MORE