B-School Research Briefs
Francesca Di Meglio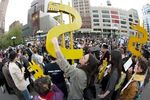 Here is a roundup of interesting research that business school professors have been conducting recently:
More Money, More Debt: College students from middle-income families are more likely to accumulate student loan debt and in greater amounts than their poorer peers, according to research presented to the American Sociological Association in August 2012. The main reason: Middle-income families earn too much money to qualify for student aid packages. The study's author, Jason N. Houle, a scholar at the University of Wisconsin-Madison, found that, on average, students from middle-income families—earning from $40,000 to $59,000 annually—left school with over $6,000 more debt than students from families earning less than $40,000 per year.
A Study in Overconfidence: The desire for greater social status promotes overconfidence, according to the study "A Status-Enhancement Account of Overconfidence," which will be published in an upcoming issue of the Journal of Personality and Social Psychology. Cameron Anderson, a professor at UC Berkeley's Haas School of Business, Sebastien Brion, a professor at IESE Business School, Don Moore, a Haas professor, and Jessica A. Kennedy, a postdoctoral fellow at the University of Pennsylvania's Wharton School, conducted six experiments to measure why people become overconfident and how overconfidence relates to social stature. In one of the experiments, the team analyzed video that captured body language, vocal tone, and rates of participation in a lab where teams worked together. The researchers gathered information on the behavior of the overconfident, who tended to speak more frequently and with a more confident tone, provided more responses and information, and acted more calmly while working with others. "These big participators were not obnoxious, they didn't say, 'I'm really good at this.' Instead, their behavior was much more subtle," Anderson said, in a release about the study. "They simply participated more and exhibited more comfort with the task—even though they were no more competent than anyone else."
Economic Pain in Spain: Spain's economy could face even greater challenges due to a 20 percent drop in the number of companies in the country, according to a May 2012 study that is part of the ESADE Economic Report. The report provides analysis of macroeconomic trends and the characteristics necessary for companies to weather the economic crisis in Europe. Conducted by ESADE Business School professor Anna Laborda, the study also revealed that businesses with fewer than six employees—which account for 90 percent of all Spanish businesses—are particularly vulnerable in the current climate.
Join the discussion on the Bloomberg Businessweek Business School Forum, visit us on Facebook, and follow @BWbschools on Twitter.
Before it's here, it's on the Bloomberg Terminal.
LEARN MORE