Who Still Buys Those 'Now That's What I Call Music!' CDs? Tons of People
By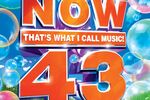 You know that weird, half-surprised feeling you get when you encounter an old movie on TV you haven't seen in years? The actors' faces seem younger, their haircuts have long gone out of style, and you find yourself wondering such things as, "Whatever happened to Mena Suvari, anyway?" You know the feeling I'm talking about? It happens to me every time I see a commercial for one of those That's What I Call Music! CDs.
I bought Now That's What I Call Music! 2 in 1999 and listened to it on a purple discman covered in sparkly stickers. The album, the second volume of what is now a 43-disc set of Top 40 hits released as a joint venture between Sony, EMI, and Universal, featured pop music gems such as Britney Spears's …Baby One More Time and that You Get What You Give song by the New Radicals that I still sort of like. (Hey, whatever happened to the New Radicals?) Forty-three is a lot of albums, but it's nowhere near the number of editions in the original British series by the same name, which started in 1983 and in July released Now 82.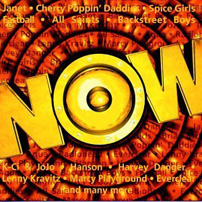 I bought Now 2 during the record labels' fat cat era; within a few years their album profits had declined as people like me switched from CDs to MP3s, abandoned MTV (which soon stopped airing music videos anyway) for music blogs and digital downloads and had no use for a compilation disc anymore. I never bought a second Now album because I didn't need it. But for some reason, the labels continued to release them. I'd see their ads on television—Now 17 featured Ashlee Simpson; Now 31 had the Black Eyed Peas—and I'd wonder why they were still around. They were the last gasps of the dying beast that had once been the mainstream music industry. But a strange thing happened. The beast kept breathing.
Now 43 made its debut on Aug. 15 at the top of the Billboard album charts; it sold 111,000 albums in its first week before sliding to the No. 2 position behind Georgia rapper 2 Chainz' album, Based on a T.R.U. Story. Selling 111,000 albums in one week isn't groundbreaking—especially when you consider the fact that back in 2001, Now 7 sold six times that number in its first week—but it's given the Now series its 16th No. 1 hit. The Now empire has the second most No. 1 releases in Billboard chart history. The only act with more is the Beatles.
How is something that should be obsolete still topping the charts? I called up two Now executives to ask why.
"When you look at what an average No. 1 record sells these days, in context we're still selling big," says Jeff Moskow, head of A&R for Now. Now achieves this by releasing four albums a year, each with 16 to 20 songs that, when bundled together, are cheaper than purchasing the songs separately online. Fifteen percent of Now's sales are digital, but that means that 85 percent still come from traditional CD purchases. This is a big chunk, and it may help explain why Now is still on top. According to Nielsen Soundscan, digital music sales in 2011 were larger than physical sales for the first time ever. But physical CDs still sell well at big box stores, such as Wal-Mart Stores and Target, where mass-market, Top 40 music—really, Top 40 culture—still dominates. Those are the exact places where Now is most popular. The series isn't designed to help the knowledgeable music fan discover new artists. It isn't designed to be ahead of a trend. It's more like a musical scrapbook, summarizing the tunes and trends that have already emerged.
"We're not critiquing music, just curating it," says Moskow, who has personally selected the songs on every album since Now 3. "We really don't care what it sounds like."
This method has an interesting side effect of turning each Now volume into a snapshot of popular culture. The Now 2 CD I purchased featured a lot of boybands; both 98 Degrees and Backstreet Boys were on there. Fast forward to Now 9 in 2002, and you'll find hip-hop sneaking into the mix (remember Ludacris' Roll Out?). Within a year, it had completely dominated the music scene; LL Cool J, Jay-Z, Nelly, Nas, and Snoop Dog all appeared on Now 12. Around this time, Now's audience switched from one that was largely female (up to 80 percent of buyers were female, according to Now's vice president for marketing and development, Laura Rutherford) to something more evenly split between genders. Right now, says Moskow, "electronic dance music is one of the biggest genres, and it's growing, so that sound is reflected in our brand and songs."
Every once in a while Moskow will take a chance on an under-the-radar song he thinks will blow up. He's especially proud of his selection of Alex Clare's Too Close, featured on both Now 43 and the British Now 82. If you don't yet recognize the song by name, you might still know it; it appeared on a Microsoft Internet Explorer 9 commercial that aired during the Olympics. "We knew it was going to be featured in the Microsoft ads; the visibility of the song would dovetail nicely with our release, and we thought it was a good moment to invest in the chance that it would become a big hit," says Moscow. It worked; Too Close, originally released last year, is currently No. 18 on the Billboard Hot 100.
Moskow says he sometimes doesn't realize how popular a music genre has become until he creates a Now playlist. A few years ago, he noticed Carrie Underwood and the Dixie Chicks dominating the airwaves, so Now released a special Now Country edition in 2008. The same has recently happened with Now That's What I Call Party Anthems, which is marketed directly to the LMFAO fan base.
Now may feel like a music industry relic, but its audience is changing. "We're selling to fewer teens than we used to," says Rutherford. "Our audience is now concentrated in 25-35 age range," otherwise known as people who are so used to buying CDs that they never really stopped. "The ease of consumption has also increased, so we find that in many situations our consumer already owns one or more of the songs on the album."
To keep pace with the rest of the music industry, Now plans to create a Spotify app that will help people explore music beyond the compilation CDs. "The Spotify customer is an early adapter when it comes to music; there's not a whole lot of overlap between people who use Spotify and our customer base, so it's going to be an experiment for us," Rutherford says.
Now may have more in common with Spotify than it thinks; the streaming music app's most popular songs can often be found on Now CDs and atop Billboard charts. Spotify's most popular track of the past year is reportedly Gotye and Kimbra's Somebody That I Used To Know. In the Now world, that song is already old; it appeared on Now 42.
Pop music is a uncertain and ever-changing industry, and few artists have enough staying power to appear on more than one or two Now volumes. But there are exceptions. According to Moskow, Britney Spears has appeared on more albums than anyone else. "Now was born at the same time as she was, we had her first songs, and we always have her latest songs," he says. Hmm. Maybe the music world is changing less than we think.