Welcome to Kochtown, Population: 1
A billionaire wants 1,846 acres of federal land for a faux frontier town
By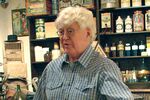 Tucked into the high country of Colorado's Rocky Mountains is a 19th century Western village, complete with a saloon, jail, and train station. But this frontier town, southwest of Aspen, is new, and it's the private obsession of billionaire William Koch, who made part of his fortune mining Colorado's coal deposits. Unlike similar towns of old, this one isn't open to just anybody.
To insulate the property—and a hilltop mansion featuring an elevator, a wine room, and his-and-hers mudrooms—Koch wants the federal government to give him 1,846 acres, in exchange for parcels totaling 991 acres he owns elsewhere in Colorado and Utah. The proposal angers area residents who hunt, fish, and hike in the national forest. "The arrogance of the man is quite startling," says Ed Marston of nearby Paonia. "Land exchanges are supposed to be in the public interest, and there is no public interest here."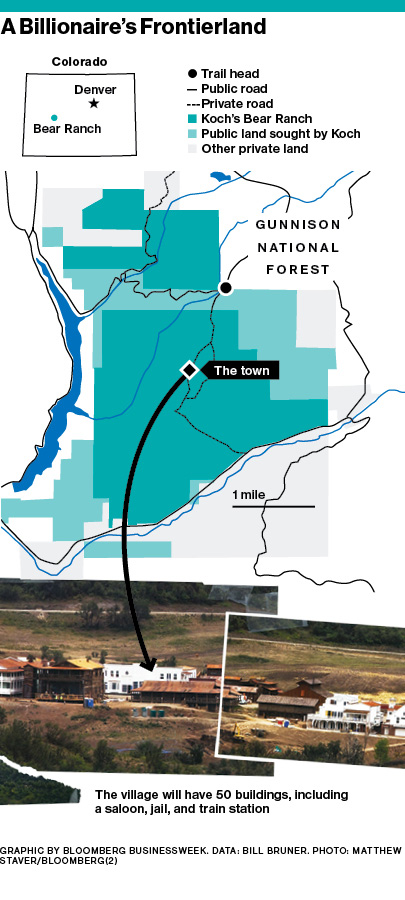 Koch is the brother of Tea Party funders David and Charles, who run Koch Industries, the oil-refining business started by their father. Koch himself is a big Republican donor. He and his business, Oxbow Carbon, an energy-development holding company, have given at least $2 million to a super PAC supporting Mitt Romney. A chunk of Koch's fortune—Forbes estimates his worth at close to $4 billion—has gone into his collection of Western memorabilia. He began building the town at Bear Ranch, his Colorado cattle operation, several years ago. This summer, Gunnison County officials signed off on his plans for the 21,762-square-foot mansion, which will overlook the 50-building compound.
Elizabeth Broun, who heads the Smithsonian American Art Museum, toured the town at Koch's invitation in July and examined some of his 2 million Western objects stored in warehouses in Colorado. She describes the town as "a little bit of a combination of a private enclave and a Wild West frontier theme park. It's intended as a showcase for the collections he's assembled."
Right now the compound can be glimpsed from a public road leading to Gunnison National Forest that bisects the ranch. Koch's proposal, as spelled out on a website explaining his plans, says he needs the land surrounding the road to cut down on trespassing. The parcels he's offering the government are near the Curecanti National Recreation Area in Colorado and Dinosaur National Monument in Utah. Though the acreage Koch would hand over is half the area he'd acquire, he argues that his land is equally valuable. If an appraisal determines otherwise, Koch would pay the government the difference, he says on the website.
Brad Goldstein, a spokesman for Oxbow Carbon, says the foot trail leading from the public road bisecting Koch's property and into Gunnison National Forest is sometimes impassable. The land swap would improve access to public parks, he says, because Koch would build new trailheads. Counters Marston: "Why should we give him three square miles of well-watered riparian area just because there may be some other access?"
Gunnison County and Delta County commissioners gave their blessing to Koch's proposal last year. The billionaire is hoping that will help win over Congress, which must approve the deal, Goldstein says. No bill is pending, and legislation introduced in 2010 died in committee. Koch, says Goldstein, is "in conversations with everybody."
BOTTOM LINE -
The bottom line: To complete a 19th century town open only to his family and friends, William Koch wants to swap land with the federal government.
Before it's here, it's on the Bloomberg Terminal.
LEARN MORE