The GOP's Hypocrisy on Small Businesses and Regulation
By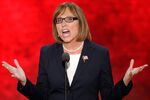 The speaker lineup at the Republican National Convention has featured a parade of small business owners. There was Sher Valenzuela, a candidate for Lieutenant Governor in Delaware who runs a 70-employee company that makes engine covers and protective padding, and Phil Archuleta, who owns a New Mexico sign making company. Representative Cathy McMorris Rodgers (Wash.) told the story of her family's Peachcrest Fruit Basket Orchard, and New Hampshire Senator Kelly Ayotte spoke about the snowplow business she started with her husband. Barack Obama, Ayotte jabbed, "hasn't run so much as a lemonade stand."
Each narrative culminated with a warning to audiences: President Obama is killing small businesses like those with his regulations. Archuleta, in fact, said his business was already being dismantled, but only vaguely described how. And he left out the fact that he has benefited from government aid. According to Mother Jones, Archuleta's company secured an $850,000 Small Business Administration loan guarantee to build an 11,700-square-foot building.
The problem with making small business owners the face of an anti-regulation argument is, most of the Obama administration's new regulations … don't apply to small businesses. And when they do, the nonpartisan Congressional Budget Office has found the costs to be negligible.
Let's break this down. The GOP is absolutely correct that the president has enacted thousands of new regulations that impact industry, mostly through the Dodd-Frank financial reform law, new EPA pollution rules and, of course, Obamacare. But Dodd-Frank doesn't really target small businesses. It's aimed mostly at Wall Street and banks that issue credit cards and mortgages. The environmental rules apply primarily to big energy companies, such as coal producer Southern Co., which has fought back hard. (And, judging by the number of events it's sponsoring here at the convention, the coal industry is pretty happy with the GOP.)
Obamacare does have an impact on small businesses, but it's unlikely to become the job killer the GOP paints it to be. For one, the smallest businesses—those with fewer than 50 employees—are not required to offer their workers insurance. Companies with more than 50 workers can either subsidize employee insurance or pay a penalty of $2,000 to $3,000, whichever works out to be cheaper. The CBO has found that once tax credits and other incentives are taken into account, the total cost of those penalties will be about $10 billion. That's "very small," says Massachusetts Institute of Technology economist Jonathan Gruber.
Making small business owners the face of anti-regulation—at a convention that's larded up with sponsorships from corporations that have waged big campaigns against the administration's rules—is misleading and disingenuous.
Before it's here, it's on the Bloomberg Terminal.
LEARN MORE