Patti Hart on Stepping Down From Yahoo's Board
The chief executive officer of International Game Technology on stepping down from the board of Yahoo! after being accused of padding her résumé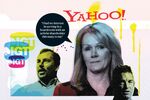 I was in Vienna on vacation with my son and husband. In the middle of the night, my phone started ringing, and my e-mail started flooding. Dan Loeb, a Yahoo investor, had accused [CEO] Scott Thompson of lying about his degree and challenged my academic credentials, too. I am one of the most vetted CEOs in the country. When I got a degree in business administration in 1978, my areas of focus were marketing and economics. Back then you only had broad-based degrees with areas of emphasis. At some point along the way, as press releases were being written, people highlighted the focus by saying I had a degree in marketing and economics. Scott had been portrayed as having a computer science and accounting degree. [It was in accounting.] It was a little ridiculous. Would we have hired Thompson if it did not say he had a degree in computer science? Yes.
The first call I made was to my chairman [Philip Satre]. I said, "I'm happy to take you through my credentials." And he said, "That's not necessary. Enjoy your vacation and take care of whatever you have to do." I spoke to Scott a couple of times. He needed to hear: "Whatever your situation is around your credentials, I have great respect for you as a human being. A lot of people do a lot of wonderful things and have a few warts along the way in life, and that's OK."
Yahoo shareholders didn't need a fight. I decided I would not stand for re-election. When I informed the board, they said, "We understand but can't imagine this board without you. You've been the backbone." There was never any pressure. I wasn't going to let my PR department fight a battle that had nothing to do with IGT. The board, in its negotiations with the activist [Loeb], asked for those who weren't standing for reelection to resign. I had no interest in serving in a boardroom with an activist shareholder this nasty to me. I was not a person to him. I was just an obstacle. The most disappointing thing was that we acted as a committee, and when I turned around, my committee wasn't there. The decision to hire Scott was unanimous. When the public and the media began to paint this as a CEO liar who was hired by a liar, they didn't come to my defense. Things don't always go perfect. You have to act as a team. — As told to Diane Brady
Before it's here, it's on the Bloomberg Terminal.
LEARN MORE