MBA Job Hunt: Networking
Francesca Di Meglio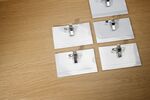 Networking is a necessary part of the MBA job hunt and may be the single most important factor in determining whether applicants get interviews. While applicants have to prove themselves to snag the job, they need to know the right people to get their foot in the door in the first place. Then they need people to advocate for them and eventually mentor them. First, however, they must meet these people and win them over. Here's how:
Step One: Recognize the network you have
Aspiring MBAs should turn to family, friends, former colleagues, classmates (both first- and second-year MBA students with contacts at employers of interest), and alumni (from both their undergraduate and MBA programs). Don't rule out anyone. At Thanksgiving, for example, MBA job hunters should tell their relatives what they'd like to do after they graduate, because a relative might know someone who can help, says Damian Zikakis, director of career services at the University of Michigan Ross School of Business. "It's like the Wizard of Oz," he adds. "Look in your own backyard. There's no place like home."
Step Two: Seek out your social network
Today's MBA students are constantly networking online. Making connections and keeping in touch with people on such sites as Facebook and Twitter is a form of networking, after all. Although job hunters should look to these sources for possible leads or connections, they should put a greater effort into LinkedIn, a site specifically designed for professional networking. Job candidates should thoughtfully create and maintain a profile and keep up with their connections. "LinkedIn is a gem for candidates to use and leverage," says Chris Thomas, global recruiting director of the Experienced Commercial Leadership Program at General Electric in Fairfield, Conn.
Step Three: Attend events on campus
All top business schools host events to help students meet recruiters and alumni in various careers. Job hunters must take advantage of these opportunities and mingle with the guests. Candidates should be mindful of their behavior. For example, recruiters might get turned off if applicants ask too many questions because it looks like they are trying too hard, says Mark Howorth, senior director of global recruiting at Bain & Co., the business and strategy consulting firm. Equally off-putting are students who try to recite their résumés in the course of conversation, adds Howorth. Remember that networking isn't always about being memorable, especially when businesses are hiring hundreds of MBAs at a time. "Networking is a chance for candidates to learn if they are a good fit for the firm," he says. "It's less about the firm getting to know the candidate."
Step Four: Cold call people in the jobs you covet
This fourth step is probably the hardest. Applicants have to get up the nerve to call people they barely know. Job hunters want to appear eager without being pushy. They also don't want the person on the other end of the line to think they are selfishly asking for help. They should explain that they are attending an MBA program and want to pursue the field in which they work. From there, job hunters can ask to meet for coffee or schedule an informational interview to find out what the job is really like.
Step Five: Always follow up with your network
Applicants should be building relationships. This means they must follow up with the people with whom they speak. They should write thank you notes when appropriate and show gratitude always. Keep in touch with people. Don't always ask for help. Sometimes, just ask how they are doing or what's new at their office. "The goal," says Rebecca Joffrey, director of the Career Development Office at Dartmouth College's Tuck School of Business, "is to get someone to go from loose connection to advocate."
Join the discussion on the Bloomberg Businessweek Business School Forum, visit us on Facebook, and follow @BWbschools on Twitter.