Lance Inc.
Armstrong's refusal to defend himself against doping charges hasn't harmed his business prospects. It's enhanced them
By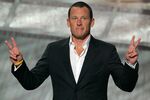 So far, it's worked brilliantly. Ripping a page from the playbook of Wall Street banks that would rather pay a fine than contest pesky, potentially humiliating charges from the Securities and Exchange Commission, Lance Armstrong decided not to defend himself against the latest round of doping allegations from his sport's regulators, the United States Anti-Doping Agency (Usada). Instead, the world's most famous cyclist and cancer survivor issued a statement that while he never did any of the things Usada accused him of, he'd like to get on with his life and focus on his family and activism rather than take part in the agency's "one-sided, unfair … witch hunt."
Armstrong's equivalent of SEC fines will be steep: the probable voiding of his seven Tour de France wins (including the return of $7 million in prize money); forfeiting his 2000 Olympic bronze medal; and, at age 40, a lifetime ban from professional, Olympic-style sports—no more New York marathons, triathlons, or Iron Mans (an announced aspiration). It's a hefty price to pay, but consider the alternative: hearings expected to include eyewitness testimony that he took testosterone and the blood booster EPO, got illicit blood transfusions, and conspired to help his entire team dope. Armstrong accepted these sanctions as the lesser of evils—a way to limit his liability, as any large corporation might, even if it meant absorbing a hit to the credibility of his brand.
Yet rather than make Lance the object of public scorn, his surrender has generated an outpouring of sympathy, support, and, in some cases, righteous indignation from both his fans and sponsors. Not only has his image emerged intact, but in pure financial terms, he's benefited from it. In that sense, it's hard to imagine a more fitting sports icon for our times.
The day after he posted his statement, the Lance Armstrong Foundation, based in Austin, Tex., saw a sudden spike in donations (roughly 25 times recent daily averages) and yellow bracelet sales (510 merchandise orders vs. 77 the day before). All of the cyclist's major sponsors, from Nike to RadioShack and Oakley (a subsidiary of Luxottica Group, in Italy), Trek bicycles to Michelob Ultra (Anheuser-Busch), said they'd honor their contracts with him. Smaller business partners, such as Honey Stinger, a Steamboat Springs (Colo.) maker of energy gels and waffles, which counts Armstrong among its owners, expressed similar solidarity.
"We've been lucky to have such good partners who support Lance not merely because he can help with their brands, but because they believe in what he is doing," said Bill Stapleton, Armstrong's longtime agent, in an Aug. 28 interview. Stapleton hinted that Armstrong was close to inking a contract with a new major sponsor and predicted "in five years, I expect that all of his partners will still be his partners … and he will have raised $1 billion for the foundation."
How did Armstrong transform what seems a tacit admission of cheating into enhanced brand potential? For starters, he won the PR wars. He cast Usada and its chief executive officer, Travis Tygart, as zealots and himself as the victim of a vendetta.
This is no small feat. Established in 2000 by the U.S. Olympic Committee and athletes who recognized the inherent conflict of interest of sports leagues policing their own sports, Usada is a nonprofit funded by Congress that endeavors to uphold fair play among all the Olympic, Pan American Games, and Paralympics athletes in the U.S. Although his is the only name that generates headlines outside France or cycling blogs, Armstrong is one of six athletes under investigation in this case. The real aim of the probe, Usada says, is to expose and disbar the team doctors, trainers, and managers who make doping possible—including, allegedly, Johan Bruyneel, Armstrong's longtime team manager, who is still running Tour de France teams. (Bruyneel denies the charges.)
Three law firms represent Armstrong, including two of the best that multimillionaires can hire in the U.S.: Williams & Connolly and Patton Boggs, both based in Washington. The third is Howry, Breen & Herman in Austin. Robert (Bob) Luskin of Patton Boggs represented Karl Rove in the Valerie Plame case and helped keep Armstrong out of federal court (a criminal investigation was dropped this February).
Armstrong's crisis PR dude, Mark Fabiani, made his name steering Bill and Hillary Clinton through the Whitewater scandal. Fabiani says Usada would not allow cross-examination of witnesses and that its arbitration process had been arranged to deal with an athlete who had tested positive on two sets of samples. Armstrong has been tested as many as 500 times without a positive for banned substances. Counters Annie Skinner, Usada media relations manager: "The independent arbitration process absolutely allows for cross-examination." She adds that Usada must establish that anti-doping violations occurred, but not all violations, including blood transfusions, can be detected by a lab test.
If turning the tables on his accusers is one way he's kept fans and sponsors, Armstrong is also able to draw upon years of goodwill. Each time he's faced accusations in the past (most recently from Tyler Hamilton, on CBS's 60 Minutes), the "haters"—a term Armstrong himself uses—have been mostly drowned out by those who found inspiration in his memoir, It's Not About the Bike, or appreciate his efforts to help those living with cancer. Among some cynics who assume he did use performance-enhancing drugs, it's almost as if his cancer advocacy is court-ordered community service—time served. ESPN columnist Rick Reilly planned to wear yellow in tribute to Armstrong, to thank him "for everything he's done since he cheated."
Ultimately, the tough Texan's best asset is the public's abiding veneration of dominant, charismatic athletes. Not answering Usada's charges is the least risky strategy to protect Armstrong's remaining assets and his legacy. New details will likely emerge about the dirty state of cycling, but he'll have nothing to gain by responding to these—except, say, via libel suits. To his iconic status as a survivor, underdog, champion, and philanthropist, he can add another distinction: He's the athlete who's too big to fail.