'Kony 2012': Guerrilla Marketing
How a San Diego nonprofit turned the hunt for a warlord into a marketing sensation
by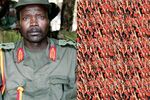 When Ben Keesey learned how many people were watching his video, he thought YouTube was broken. It was March 5, and Invisible Children, the nonprofit of which he is chief executive officer, had just launched Kony 2012, a 30-minute documentary about Joseph Kony, the African warlord who's been kidnapping and killing people for more than 20 years. Keesey, 29, checked YouTube the morning of the debut; the video had 50,000 views—a healthy number. Soon, tens of thousands of people were commenting—and the number kept growing. "YouTube doesn't refresh its numbers immediately," he says. "So we didn't know how many people were watching it, but we could tell from the comments that it was taking off."
Then the nonprofit's e-mail system broke. Its sales force was locked out of its online store. Its Web design firm struggled to keep the website from crashing as tens of millions of people flocked to it. Media outlets called; Keesey and Invisible Children co-founder Jason Russell spent the following days flying between California and New York for appearances. "Have slept only two hours in four days," Russell tweeted before he went on the Today show on March 9, "Pray for focus[ed] mind." At home, Russell's wife, Danica, was so overwhelmed that she left uncooked lasagna in her oven for two days. "It got scary," recalls Keesey. "All we could do is hang on for the ride."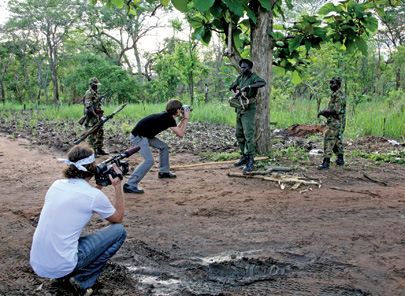 Russell is Invisible Children's chief filmmaker; he designed Kony 2012 to do two seemingly incompatible things: 1) explain a protracted international conflict happening very far away; and 2) be as popular as a Buzzfeed list. Russell did away with much of Kony's back story and focused instead on the target audience: teenagers and twentysomethings browsing Facebook and Twitter. He added some feel-good philosophy about the interconnectedness of society, scored the film with a dubstep song, and shortened it to 29 minutes and 59 seconds because a timestamp starting with a 2 looked less daunting than one with a 3. Russell also put his young son Gavin in the film because, as Invisible Children's director of idea development, Jedidiah Jenkins, explains, "if you want to get something watched online, you either have to put funny cats in it or little kids."
It worked. By the end of the first week, more than 112 million people had seen Kony 2012—about the same number who watch the Super Bowl every year. A Pew Research Center poll released 10 days after the film's debut found that 52 percent of adults in the U.S. had at least heard of Kony 2012 and nearly a quarter of those ages 18 to 29 had actually watched it. It was viewed by more people in a shorter amount of time than any other video in the history of the Internet. When Ben Rhodes, deputy national security advisor for strategic communications, tried to brief President Barack Obama about it a few days after its release, he was too late. "No, I know," the president told him. "Malia showed it to me last night."
Invisible Children won't yet say how much money it made from Kony 2012—as a nonprofit, it will release its 990 form later this year—but nearly 2 million people visited its donation page within the first few weeks of the campaign, and the nonprofit says the average donation it received online so far during 2012 is $20. Even by conservative estimates, Invisible Children has likely tripled its $13.7 million 2011 revenue with Kony 2012—and it's possible that the actual number is much, much higher.
The San Diego nonprofit managed to do what major corporations spend millions to achieve: convince the elusive but ultraconnected Generation Y to give them money. The only other online campaign that came close to that kind of success was ad agency Wieden + Kennedy's 2010 "Old Spice Guy" advertisements, which helped boost Procter & Gamble's body wash sales by 107 percent. P&G spent a lot of money on the effort—which also included traditional TV commercials—and still only earned a fraction of Kony 2012's audience. Invisible Children captured the world's attention with just one video, but it also raised questions about the value of all that publicity, and if it can be used to actually solve problems.
The story of Invisible Children starts with three college friends. Russell, now 33, is the son of two devout evangelicals. He's slender and tan with a wide jaw and friendly smile. He couldn't be interviewed because he's recovering from the "brief reactive psychosis"—a psychotic episode often caused by stress—he suffered after the release of the video, according to Invisible Children. He hasn't returned to work. In an e-mail, his wife described his recovery process as "building invisible fences around what's sacred [and] getting back to life."
Russell graduated from the University of Southern California film school in spring 2002 and took off for Sudan a year later with film student Bobby Bailey and a 19-year-old named Laren Poole to document the country's second civil war. Their destination, the Nuba mountains, wasn't the catastrophic battlefield that Russell envisioned. Jolly Okot, now Invisible Children's regional ambassador to East and Central Africa, had agreed to be the trio's guide. "They kept saying, 'We're going to make this known to the world! We want to tell the story of war—where is the war?' " she says. "I told them, 'If you really want to talk about war, I have something to show you.' " She took them to her hometown near Gulu, in northern Uganda. It had been terrorized by the Lord's Resistance Army for nearly 20 years.
The L.R.A., led by self-appointed prophet Kony, snuck into towns at night and abducted people, including children, often forcing them to kill their families to ensure they'd have no home to return to. Young girls were taken as "brides" for L.R.A. officers. Kony is believed to have kidnapped more than 66,000 people. Okot was one of them; she was abducted and raped in 1986.
She took the filmmakers to a teeming displacement camp outside Gulu, one of many created by the Ugandan government, supposedly to protect people from the L.R.A. At their most crowded in 2006, more than 1.8 million people were forced by the government to live in these camps, according to the United Nations. "We were so unaware of what was going on," says Bailey, "when Jolly showed us a camp, we didn't even know what we were looking at."
The Ugandan government left the camps largely unprotected, which made them easy targets for L.R.A. attacks. In Gulu that night, Russell and his friends saw thousands of "night commuters"—children who walked miles from the camps into the city to avoid abduction. They slept in parks and bus stations, a sea of tiny bodies packed on blankets, something between a sleepover and a shantytown. In November 2003, then UN Undersecretary General for Humanitarian Affairs Jan Egeland would witness a similar scene and call northern Uganda "the most forgotten emergency in the world."
Russell filmed a lot of footage that night, and it has appeared over and over again in Invisible Children's campaigns. It's this night commuter image that seems to have affected the founders most strongly; it even served as the inspiration for the nonprofit's name. "I still remember Jason's voice that night," says Okot. "He said, 'Jolly, if this happened in America for one night, the whole world would shut down.' " They had found their war.
Invisible Children occupies two floors of a glass high-rise in downtown San Diego. The walls are scuffed, chairs are broken, and the couch in the reception area is the back seat of an old car. Interns and volunteers work at folding tables, hunched over laptops; a brass gong sits prominently on a bookshelf along one wall. The place feels more like a youth group than a nonprofit focused on international conflict. During a lecture at Liberty University in 2011, Russell described the organization's culture: "We can have fun while we end genocide."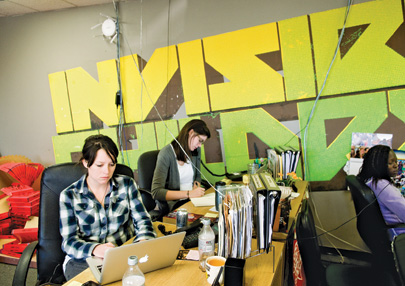 Millennials are the group's main support base, propelling its growth from three guys selling DVDs out of a truck in 2004 to a $13.7 million enterprise in 2011 with more than 160 full-time employees across the U.S. and Africa. The founders didn't set out to build such a young following; they stumbled into it only after being shunned by the larger nonprofit community. After they returned to the U.S. and finished their first film, a one-hour movie titled Invisible Children: Rough Cut, the trio tried to team up with existing charities to send the money they collected to northern Uganda. But their jokey demeanor turned off established nonprofits (the film used several crude stunts, including a close-up of Russell puking).
"For two years we sat in meeting after meeting with NGOs large and small, all saying to us, 'Don't do what you're doing,' " says Bailey, who left the organization in 2009. (Poole left last year.) Yet on tours, they found that kids in high schools and colleges really liked it—and more important, donated a lot of money. The evangelical community donated even more. "Jason's family is so involved in the San Diego Christian community that a lot of our donors came from that group," explains Keesey.
Invisible Children became a 501(c)3 in 2005 with a mission to "raise awareness and educating [sic] the U.S. about atrocities, exploitation and abuse of invisible children throughout the world." Keesey joined that year as chief financial officer. The group also hired Okot to create a scholarship program for L.R.A. victims. (To date, 4,802 scholarships have been awarded.) In the U.S., Invisible Children made more films, and the number of supporters steadily grew. It organized rallies, including an overnight camp-out in public parks in 2006 that drew more than 80,000 people across 126 cities. At first these events were the highlight of the nonprofit's awareness efforts; that changed as its focus shifted online.
Invisible Children has had a large social media following since the days of MySpace. Before Kony 2012 launched, it had about 440,000 Facebook fans; its following across platforms is now 3.6 million. (Breast cancer awareness charity Susan G. Komen for the Cure has more than 20 times the revenue of Invisible Children and only 660,000 followers.) The group posts funny photos, inspirational quotes, and links to music videos. It doesn't always talk about itself—or Kony.
Internet donations account for an estimated 10 percent of the $300 billion Americans gave to charity last year, but that number is growing—by about 13 percent a year, according to fundraising software company Blackbaud. Half of Invisible Children's teenage supporters are already accessing its Web content through mobile devices, and 82 percent of its funds are donated online, usually in small increments. In 2010 its Facebook community was already large enough to produce enough votes to win the Chase Community Giving campaign's $1 million prize. Last year an intern locked himself inside the nonprofit's offices and live-streamed his attempt to raise $2 million. In a sense, Invisible Children is the first Millennial nonprofit. "If Levi's can spend tens of millions of dollars making me believe that blue jeans are necessary for my happiness," asks Jenkins, "why can't we spend much less money and use our talent to start saving lives?"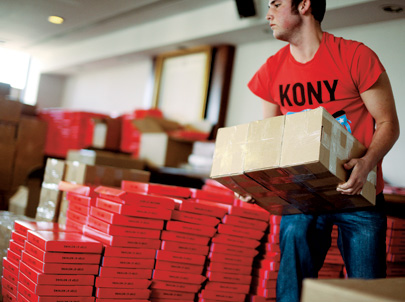 Millennials donate money differently, explains Richard Honack, a nonprofit marketing expert and a professor at Northwestern University's Kellogg School of Management. "Baby boomers and most Gen Xers give to what they know: their churches, universities, maybe a cancer society. But [for] younger people, a buzz cause will come on, like the Haiti earthquake or Invisible Children, and they'll donate money without even thinking about where it's going. They just assume they're doing something good." When left unchecked, this indiscriminate giving can create a gold rush effect among charities as they clamor to become the cool new cause. "The game isn't who can make the biggest difference or is fighting for the most important cause," says Ken Berger, CEO of the nonprofit-rating website Charity Navigator. "It's he who has the best marketing wins."
Invisible Children makes no apologies for its approach. "We are very intentional with our videos," Jenkins says. "I know there are people out there who want to read a 75-page policy paper, and I'm glad they exist. But most people, especially 18-year-old kids, don't want to. If you only move in the thinking world, your reach is limited."
The backlash against Kony 2012 was as swift as the video's spread. Right away, the group's finances were scrutinized. Most notably, critics pointed out that according to the group's 2011 financial statements, only 37 percent of its money went to direct services in Africa. Others complained that Kony 2012 didn't explain the intricacies of the L.R.A. conflict and that it targeted Kony instead of promoting victim rehabilitation. And a bunch of good-looking white Californians telling the world how to save Africa made people queasy. "There's a limited amount that can actually be done by the average individual to actually go and get Kony," says Noah Gottschalk, a senior policy adviser at Oxfam America.
Invisible Children's executives admit that early on, they didn't know how international aid worked. During a trip to Uganda in 2005, Russell, Poole, and Bailey invited two boys they thought were orphans to stay with them; it turned out the kids had ditched school and run away from home. Only in recent years, as the group has begun working with other established organizations, has the international community come to take them seriously. Ayesha Nibbe, an anthropology professor at Hawaii Pacific University who has studied the humanitarian response in northern Uganda, says: "There was this running joke that if you meet an aid worker in Gulu and they're really, really young and really, really blond, they're from Invisible Children."
In reaching so much of the world, Russell might have unleashed more social energy than one person could handle. At the height of the criticism this spring, 10 days after Kony 2012's release, police found him naked and shouting in a residential San Diego neighborhood, apparently suffering a nervous breakdown. Footage of the incident quickly appeared on TMZ and Gawker.
A month later, Invisible Children's "Cover the Night" poster campaign—which was to be a real world extension of Kony 2012, with hundreds of thousands of people plastering Kony posters all over the world—flopped. The group, worried that it didn't have the manpower to oversee such a sprawling event, had turned it into a self-organized community-service project. Clean up your local park, it suggested. Repair a fence. And don't forget to hang up some Kony 2012 posters. With no one in charge and no clear connection to its mission, few of its online supporters turned out in person. The event—or rather the lack of one—has been held up as a prime example of social media's limits, evidence that the ties of online relationships are too weak to inspire real change.
But Keesey points to other online actions that translated into real-world success. In June, just days after UN Secretary-General Ban Ki-moon released his first report on the L.R.A. conflict, the nonprofit delivered 3.7 million signatures it had garnered online calling for Kony's arrest to the UN Security Council. That's more than seven times the number Amnesty International USA presented to the Bush administration on behalf of Save Darfur in 2007. And within days of Kony 2012's release, several congressional representatives introduced legislation urging the U.S. to expand its role in the conflict.
"They really have made a difference," says Senator James Inhofe (R-Okla.), who's been advocating for U.S. involvement in the L.R.A. conflict since the late 1990s and recently worked to pass a Senate resolution calling on the U.S. to continue to support the regional troops that are pursuing the L.R.A. "I couldn't even get bills co-sponsored before, and now that the kids have made this a big national issue, people are knocking down my door to get their names attached to this legislation." When President Obama signed the Lord's Resistance Army Disarmament and North Uganda Recovery Act in 2010 (later allocating $45 million and deploying 100 military advisers to the region), Russell, Keesey, and Poole were with him in the Oval Office.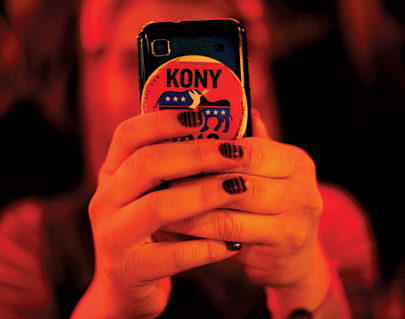 Much of what the founders saw on their inaugural trip to Africa no longer exists. The displacement camps are almost gone, the night commuting has ended, and Kony hasn't been seen in Uganda since 2006. His militia, depleted to an estimated 300 soldiers, is now spread over remote regions in the Democratic Republic of the Congo, the Central African Republic, and South Sudan. To follow his movements, Invisible Children has joined another nonprofit, Resolve, to create the LRA Crisis Tracker, a real-time analysis of the L.R.A.'s activities as seen through an interactive website and iPhone app. It has become a main source of L.R.A. information for the U.S. Department of State. Invisible Children also distributes flyers and broadcasts radio programs near L.R.A. camps that encourage defection; a study of 39 L.R.A. defectors by Conciliation Resources, a British nonprofit, found that 35 of them cited these programs as giving them the courage to escape. This year, Invisible Children funds are going toward the construction of a psychological rehabilitation center for former abductees in Dungu, DRC.
Most of these programs were in place before Kony 2012, making it difficult to quantify the video's direct impact. A sprawling, Web-based awareness campaign can only report how many people watch its film, sign petitions, and donate money—and what does that ultimately mean? Since Kony 2012's launch, the U.S. has extended its military advisers' stay, and Ugandan forces have captured one of the L.R.A.'s top commanders. The African Union promised to send 5,000 troops but then reneged in July, saying it didn't have the funds. In the past few months, Invisible Children has sponsored another 100 scholarships and filmed another movie. In 2013 it will host something it's calling a "global dance party"—again, to generate publicity. "Awareness is a very hard thing to be able to measure and determine," says Charity Navigator's Berger. There's very little oversight for awareness-based campaigns, and they rarely have definable goals. There's only one concrete way to measure the campaign's success: if Joseph Kony is caught.
At the heart of Kony 2012 was a call to find Kony by the end of the year. Kony is older now, about 53, and with the increased international presence he might be found, but it might not be this year and it might not be the next. No matter the outcome, Kony 2012 has provided Invisible Children with enough money and fame to allow it to build bigger, farther-reaching programs. "It was a bold thing to put a date on this," Keesey admits. "If Jan. 1, 2013, comes and Kony is still out there, then another year will have gone by in a world that has not come to the defense of the innocent." He smiles. "I'm sure we'll think of a way to get that message across, too."
Before it's here, it's on the Bloomberg Terminal.
LEARN MORE