In Japan, Retirees Go On Working
A retirement-age hike may ease the country's pension load
By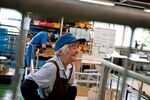 When he retired three years ago, Hirofumi Mishima got right back to work. After aging out of a $77,000-a-year job as an industrial gas analyst, he spent six months trawling the vacancy boards at a Tokyo employment center. Fifteen days each month, Mishima, 69, rises at 4 a.m. for an eight-and-a-half-hour shift overseeing the supply of hydrogen gas to buses. His daily commute has risen from three hours to four even as his earnings have dropped by more than a third. "Keeping a regular job is the most stimulating thing for me," he says. "Now, I work for my health. I'm very happy my job gives me mobility and helps me stay active."
Though Japan's retirement age stands at 60, more than 5.7 million Japanese have continued to work past 65, either because they can't afford to stop working or they're looking to get out of the house. The nation's private companies can force employees to retire at 60 if they wish, so workers often accept slashed wages to stay on, sometimes in a reduced capacity as they start collecting public pension benefits. According to the Statistics Bureau of Japan, 1 in 5 seniors is employed, the highest proportion in the developed world. Facing heavy public debt, however, the world's third-largest economy is looking to hike the retirement age and ease its pension load.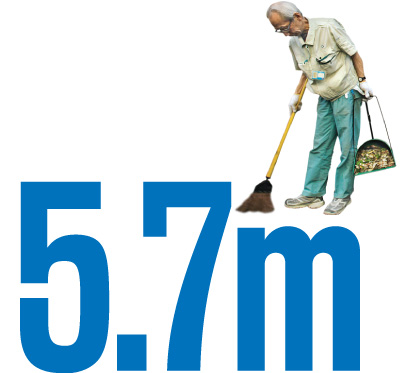 The population is graying worldwide, but Japan leads the trend with the world's longest life expectancy, 83, and one of the lowest birthrates, 1.4 babies per woman—well below the replacement rate and too low to quickly reverse a 15-year slide in the size of the working population. Japan is also struggling with the highest public debt, according to data compiled by Bloomberg: $11.5 trillion, or $91,911 per capita. That's largely due to the country's overly optimistic 1970s assumptions about pension costs, says Martin Schulz, a senior economist at Fujitsu Research Institute in Tokyo. "Japan's public-debt problem is just starting," Schulz says. Welfare costs in Japan are projected to increase 36 percent to ¥148.9 trillion ($1.9 trillion) by 2025, equal to 24 percent of gross domestic product, according to official government data.
Legislators hope to limit future costs with a new reform—it cleared the second of Parliament's two chambers on Wednesday—that gradually raises the retirement age to 61 in April 2013 and 65 by 2025. The upshot: Private-sector employees will get another five years before they can be forced to retire.
Not surprisingly, many corporate executives oppose extending employment protections to 65. Komatsu, the world's second-biggest construction equipment maker, rehires 90 percent of its retirees with a 40 percent pay cut. "I'm happy to keep workers on after 65, but I don't think many are physically capable," says Chief Executive Officer Kunio Noji, who is 65. Yasuchika Hasegawa, the CEO of Asia's preeminent drugmaker, Takeda Pharmaceutical, and chairman of the Japan Association of Corporate Executives, says employers shouldn't be forced by law to retain older workers. He is 66.
Under the current system, Japanese men exit the labor market on average at 70, and women at 67, according to a 2011 report from the Organization for Economic Cooperation and Development. "The pension isn't enough to live comfortably," says Kazuyoshi Hirota, 69, who works 24 hours a week as an apartment building manager and janitor in central Tokyo. Hirota retired seven years ago from his full-time security job at Asahi Group Holdings. His wife, 70, works as a cleaner. It's not just about the money, though: "Life is boring without work," he says.
Before it's here, it's on the Bloomberg Terminal.
LEARN MORE