Google Gets Some Rare Good News in China
Despite censorship woes, it's now No. 1 in mobile ads on the mainland
Mark Lee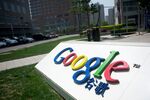 Google has long dominated online advertising in much of the world by placing ads next to search results, and it was expected to do the same in China. But since the company's 2010 decision to stop self-censoring Web content on the mainland and move its China servers to Hong Kong, Google's business has fallen further behind Baidu, the local search champ. That Beijing-based company had 78.6 percent of China's search-ad market by revenue in the second quarter, five times that of second-ranked Google, according to Analysys International.
Now, with the help of a recent acquisition, Google has managed to carve out a market niche where it's the mainland leader: ads aimed at mobile phones. Mobile-search advertising goes beyond generating ads related to searches and automatically sends ads to users playing games, viewing videos, or using other apps on their smartphones and tablet computers. Google's AdMob unit, which it bought for $750 million in 2010, says it has more than 10,000 registered developers in China and that its servers now get 7.9 billion requests a month to show ads to mobile-app users in the country.
"Since 2010, Google has been trying many things to keep its presence in China," says Steven Chang, chief executive officer of ZenithOptimedia's China division, which buys advertising from Google and Baidu. "AdMob now has quite a significant share of the market."
Google's leadership in Chinese mobile advertising will face challenges from Baidu and Tencent Holdings, China's largest Internet company, as they develop their own services targeting smartphone users. For now, Google sends about five times as many phone ads to iPhone and iPad users as Domob, its closest competitor in China, according to iResearch. In the researcher's March survey of free mobile apps in Apple's China App Store, almost 45 percent of ads were generated by the Google unit, vs. 9 percent by Domob. Although Google doesn't break out earnings from mobile ads or sales generated in China, analysts say there's plenty of room for growth. Overall revenue in China's mobile-app ad market will likely more than double to about 1.8 billion yuan ($283 million) this year, exceeding the 1.2 billion yuan from mobile-search queries, forecasts iResearch.
AdMob's advantage is its reach across smartphone technologies, covering iPhones and iPads as well as Android devices, says Chen Haozhi, CEO of Chukong, a maker of mobile games in Beijing. Chukong, whose Fishing Joy game was ranked China's most popular for Android users in the first quarter of 2012 by iResearch, is spending more than $1 million on advertising through AdMob this year, Chen says. "Mobile advertising is better at targeting users than desktop-based ads because they can be more personalized."
Hylink Advertising bought most of AdMob's spots in China during the London Olympic Games to meet growing demand for mobile promotions, says CEO Su Tong. The deal allowed the digital marketing company to resell the space to clients such as BMW's China unit and Shanghai General Motors, a Chinese venture of General Motors, Su says. The Google-run advertising included a banner ad for GM's Chevrolet brand, seen at the bottom of the screen in the mobile edition of China's state-backed Global Times newspaper. "At the moment, in the field of mobile Internet, Google has a clear advantage," Su says. "The market is heading the way of mobile."
Before it's here, it's on the Bloomberg Terminal.
LEARN MORE