Flipboard Brings Glossy Print-Style Ads to the iPad
The newsreader app brings glossy print-style ads to the iPad
By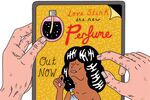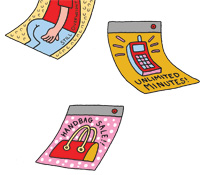 Two years ago, Flipboard, an iPad app that displays content from Facebook, Twitter, magazines, and newspapers on an elegant interface, made a smashing debut: Silicon Valley investors poured $60 million into the company, Apple named it the best iPad app of 2010, and tech bloggers raved about its design, which allows users to turn pages with the swipe of a finger. By this July, 20 million users had signed up—about one new customer per second—turning Flipboard into one of the biggest newsreader apps for the iPad.
Now that the company has momentum with users and content partners, co-founder and Chief Executive Officer Mike McCue has turned his attention to making money. He's trying to convince big-name brands that ads on Flipboard are more effective than the ho-hum banner ads on most websites and mobile apps. Late last year, Flipbook introduced glossy, full-screen, aspirational ads more typical of magazines like Vogue and Elle than mobile apps. In recent months, ads for Verizon Wireless, Levi's, Universal Pictures, and other companies have started showing up within the articles of 21 publications that are working with Flipboard, including Vanity Fair and O, The Oprah Magazine and tech websites like Engadget and GigaOM. Advertising prices range from $25,000 to $1 million, depending on the size and design of the campaign. For an upcoming Levi's project, clicking on the full-page ads within Details and Vanity Fair articles on Flipboard takes users to an interactive shopping site developed with ad agency OMD USA. "They have figured out a way to make print ads look beautiful in a digital environment," says Alan Cohen, OMD USA's CEO.


Unlike other ad-dependent companies, such as Facebook and Google, Flipboard doesn't have a sales force. Instead, it relies on the magazines and websites it features to sell the ads along with the traditional ads they already sell. Flipboard says it's cut less than half the total cost but would not disclose the exact amount.
To make the company's case to publishers and advertisers, McCue has hired five "evangelists" in New York, led by Christine Cook, a former advertising executive with News Corp.'s The Daily and the New York Times. The evangelists play matchmaker between publishers looking for new digital sources of revenue and advertisers seeking fresh ways to reach readers on their mobile devices. "We're making a certain bet here that this new ad model is going to be understood and people are going to rally around it," says McCue.
Flipboard faces competition from other newsreading apps, including Google Currents, Yahoo!'s Livestand, and Pulse, which has 15 million users and generates revenue by selling both advertising and digital subscriptions. To set itself apart from the crowded field, Flipboard boasts that more than 1.4 million people use its app daily, and that its users typically read its content for 86 minutes a month on their iPads and smartphones. The company also says advertisers are getting about 3 percent of users to click on their ads. By comparison, Facebook's click-through rate is just 0.06 percent, according to a May report by Marin Software, an online advertising company.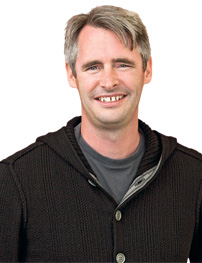 McCue also argues that Flipboard's design requires readers to engage with an ad, even if only for a moment as they swipe to turn pages. "People are ignoring these," says McCue, pointing to an ad running down the right panel on a website displayed on his iPad. He says that a Flipboard ad is more like a full-page print ad, which costs 10 to 15 times more than a banner ad on a magazine's home page.
Details, the men's lifestyle magazine, is using Flipboard instead of building a standalone iPad app, which would require hiring new design and production staff, says Christopher Cormier, the magazine's associate publisher. "Details is a very successful brand but a small brand. We don't have the robust budgets to launch into a new platform like, say, Glamour does," he says. Cormier says he's encouraged that about 80,000 users read at least one Details article on Flipboard a month, roughly equivalent to 20 percent of the magazine's subscribers. Other Flipboard partners, such as Engadget, get more than a million viewers a month. Not all publications have been so enthusiastic. The New Yorker and Wired recently pulled out of partnerships with Flipboard, telling Ad Age they'd prefer to steer advertisers toward their own apps and websites. But the company avoided a big bruise in August, saying it won't be affected by new rules announced by Twitter that have cut off some developers' access to the service's content.
At the same time Flipboard has been trying to gain the loyalty of publishers and the money of advertisers, it has fielded inquiries from potential suitors. It has no intention of selling anytime soon, says a person close to the company. McCue, who declined to discuss takeover speculation, sold his last venture, the voice-recognition software company Tellme Networks, to Microsoft for $700 million in 2007. Whether Flipboard can reach that kind of value will depend on how well the unorthodox ad strategy works. Says McCue, "It's a massive opportunity."
Before it's here, it's on the Bloomberg Terminal.
LEARN MORE