Five Startups That Stood Out at Excelerate's Demo Day
Kevin Fitchard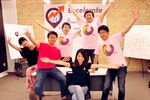 Chicago's Excelerate Labs held its annual demo day on Wednesday, trotting out the 10 fledgling companies that underwent its intensive accelerator program this summer. At the end of the program the companies receive $50,000 grants from Chicago's New World Ventures, as well as the chance to pitch to 200 angel and early-stage venture capital investors from the Midwest and other regions of the country.
While Excelerate focuses on Chicago-based startups, this particular class had a much broader background, with entrepreneurs temporarily relocating to the Windy City from as far away as India and France. The graduates also spanned every corner of the technology map, from new e-commerce platforms and photo-aggregation services to a company trying to teach computers to see as humans. While all 10 made an impression, these companies in particular grabbed my attention:
Orbeus
It may seem like another Face.com competitor, but Orbeus is taking its image-recognition software to another level, identifying context as well as people in digital photographs. Founded by a handful of MIT and Boston University scientists, Orbeus seeks to pinpoint anything and everything in a photo or video, from where it was shot to the items within it.
"Computers can read like humans, but they can't see like humans," co-founder and Chief Executive Officer Xing Meng said during his presentations. "We help computers see better than humans."
So rather than just match names to faces, Orbeus can mine images for all kinds of information. By identifying the dishes in the Foodspotting pictures you take, it can tell that you're a vegetarian and notify social networks to stop serving you up ads for steakhouses. It can identify how many times a particular logo shows up in the video frame of a sporting event, helping marketers with strategic brand placement. And it can determine from your Flickr photostream whether you like to vacation on sandy beaches or in Vegas casinos.
Technology like this raises some big privacy concerns, as my colleague Derrick Harris has pointed out, but it can also turn digital images from random collections of pixels into data just as meaningful to machines as they are to people.
Lasso
This startup is delving into the crowded field of social-planning and meet-up apps, populated by Facebook Events, Plancast, Saambaa, and Giddyup, just to name a few. But Lasso co-founder Wes Dearborn said most of those apps are too rigid in structure. Lasso's iPhone app switches the focus away from the event, location, or time to the people itself.
Dearborn said the social-planning tool that millennials most commonly use to plan outings is plain old SMS, spawning massive chains of text messages. Lasso is building off the texting trend. Its app allows users to reach out to all or a select number of friends with a suggestion for an activity or gathering, something as simple as "Let's hang out on Friday."
At any time, friends can suggest a specific time, location, or activity using in-app planning tools, but those plans are subject to change depending on which way your circle is leaning. Rather than create an event-planning app, Lasso has created an app that facilitates casual social activities between friends, making logistics secondary.
Cureeo
Wine used to be the purview of the stuffy elite and viticulturally knowledgeable, but in the last 20 years it's become accessible to the mass market. Cureeo wants to bring about that same transformation in the art world by combining an online gallery for selling art with an informational portal that translates the esoteric terminology of galleries into layman's terms.
While the market for $2,000 artworks may never scale down to the consumer masses, the vast majority of people with the means and inclination to collect don't have the background or training to make purchasing decisions, according to CEO Maida Swenson-Fortune. "The general public feels that unless they have a friend in the industry, they'll be duped," she said.
Cureeo isn't just using the wine industry as an example, it's following the playbook of wine critic Robert Parker, who in his newsletter the Wine Advocate began using a 50- to 100-point scale to rate bottles of wine. Cureeo is developing a methodology that will assign ratings to its wares determined by the market's current valuation of the artist's work and experts' views on that value's potential for appreciation.
Those scores will then be compared against the price of every painting, sculpture, and photo sold on Cureeo's website, generating a 50- to 100-point rating aimed at helping collectors get the most value from their investment. That may seem like it punishes artists who are trying to maximize their sales on the site, but Cureeo co-founder and head curator Stephanie Coate said the methodology would also benefit artists who often have no idea how to price their work.
Pictarine
Pictarine CEO Guillaume Martin was definitely the most entertaining presenter at Excelerate, at the expense of Facebook CEO Mark Zuckerberg. Martin's premise was a simple one: Photos have become the currency of social media, expressing much more personality and depth of meaning than status updates or "likes" ever could. The problem is there's no single source from which you can view all of the photos you and your friends collect.
As the uber-social network, Facebook is aggregating images from multiple photo-sharing networks, such as Instagram, Flickr, and even directly from your mobile phone, but it's fallen flat in presenting those photos, opting instead for newsfeed clutter, Martin said. To put it his way: "Mark is between your friends and you."
Pictarine's app—which the startup surprisingly chose to build for Android before the iPhone—is as simple as the company's premise. It creates a meta-social network aggregating your friends' photostreams from Facebook, Instagram, Twitter, Tumblr, and Instagram.
Whimseybox
Forget wine clubs and farm shares. Whimseybox is delivering a monthly craft box to its subscribers for $25 a month, which they can use to make their own do-it-yourself creations. According to CEO and founder Alicia DiRago, crafting has become a $30 billion industry, but the primary supplier of craft supplies, Michaels, doesn't even have an e-commerce presence.
Whimseybox plans to fill that gap by creating an online community that will not only provide ideas and inspiration for the growing number of DIY crafters, but also sell the materials necessary to bring those ideas to life.
Also from GigaOM:
How Emerging Technologies Are Influencing Collaboration (subscription required)
Why Google's Homepage Antics Are More Serious Than They Appear
Can Berlin Be a Real Startup Hub without a Real Airport?
Multi-Screen Mania: How Our Devices Work Together
Before it's here, it's on the Bloomberg Terminal.
LEARN MORE