Enterprise Startups Come of Age
New companies replace routers and storage with software
By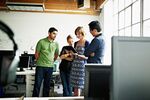 Suddenly in Silicon Valley, makers of enterprise technology—the largely unseen equipment and software that companies use to do everything from keep the books to run their websites—are the up-and-comers. Never mind the speculative business models of consumer Net companies such as Facebook and Zynga, says MobileIron Chief Executive Bob Tinker: "We sell software to people who give us money. It's a pretty traditional model."
They're not offering traditional technology, however. Rather than Dell servers, Cisco Systems routers, and EMC storage systems that have dominated corporate info tech for decades, companies such as Arista Networks (networking gear), FireEye (security), and Coraid (storage) make a new generation of products—mainly software—to help large companies quickly roll out Internet services and deal with the soaring data traffic that results.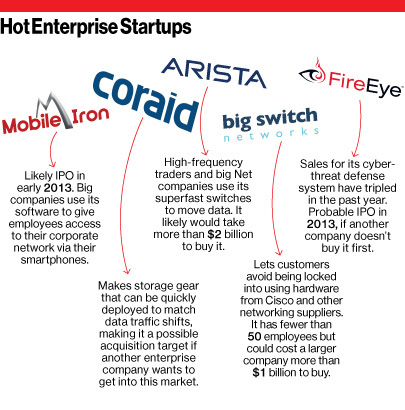 This new wave of enterprise companies is producing its first success stories. Shares of storage maker Fusion-io have risen 54 percent since it went public on June 8, 2011. Shares of Palo Alto Networks, which makes data-center security gear, are up by the same percentage since its initial public offering on July 20. Others, including MobileIron, Arista, Palantir, and FireEye—all of which will end 2012 with more than $100 million in sales, according to people familiar with their finances—will be ready to go public by early next year, if not sooner.
Younger upstarts are close behind. Nutanix, Nimble Storage, and Violin make storage systems that compete with those from established brands EMC and NetApp. Cloudera makes data-mining software that lets companies identify business patterns from reams of incoming data, IBM-style. "Our pipeline of enterprise and cloud IPO targets has more than doubled in the past year," says George Lee, head of Goldman Sachs's technology investment banking practice.
This disparate collection of companies is attacking the Old Guard of the enterprise tech business with a common weapon: software. In the past, a networking company such as Big Switch Networks probably would have sold its technology in the form of hardware. Instead, the Palo Alto-based company makes a program that can run any brand of router. Coraid makes cheap storage modules built around flash memory and traditional drives, but its major advantage is software that any businessperson can use instead of waiting days or weeks for assistance from the IT guys, says CEO Kevin Brown. "Hardware is the bottle," he says. "Software is the wine."
Big corporate tech buyers, normally a conservative group, aren't waiting for traditional suppliers to catch up. Big Switch has fewer than 50 employees, yet 80 percent of its customers are corporate giants that have signed seven-figure contracts for its software, says CEO Guido Appenzeller. Big Switch's software lets clients develop new ways to use their networks while avoiding being locked into a particular hardware vendor like Cisco. Big Switch is now likely worth more than $1 billion, given that its closest networking software rival, Nicira, was bought by VMware for $1.2 billion in July. Nicira had sales of less than $10 million at the time, say two people familiar with its finances, so the deal put Valley dealmakers into overdrive. "It took exactly four minutes and 30 seconds after the deal was announced that the first investment banker called me," Appenzeller says.
With so much at stake, the Nicira deal could drive a wedge in the old order. It puts EMC, the majority owner of VMware and a close partner of Cisco for many years, indirectly in the networking business. If Cisco feels sufficiently threatened, it could buy a storage upstart such as Coraid. (Spokespeople for Cisco and EMC say the partnership between the companies is sound and that they intend to lead, rather than be victimized by, new data center trends.) Oracle, IBM, Hewlett-Packard, and Dell could choose sooner rather than later to acquire their way into new growth markets, says Brian Marshall, an analyst with International Strategy & Investment.
By the time the big guys sort it all out, these new players hope to have carved out large enough niches to survive on their own. Already, Arista would cost an Oracle or IBM more than $2 billion, says Pacific Crest Securities analyst Brent Bracelin. "These companies aren't household names now, but they will be in three years."