Emotional Eaters Finally Get 'Chicken Soup for the Soul' Soups
By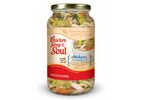 The publisher of the Chicken Soup for the Soul series of inspirational self-help books has partnered with retail branding company Daymon Worldwide to launch a line of Chicken-Soup-for-the-Soul soups, which will hit supermarket shelves nationwide in January.
This news may arouse a mix of emotions, but don't let that trouble your sensitive nature. "There is no right reaction. There is only your reaction. Let it happen and let it be," as the Chicken Soup books have advised readers since 1993. "Savor it. Engage it with your whole being."
It's a literal and obvious branding move for the Connecticut publisher, which has sold more than 100 million books full of empathetic, tear-jerking stories in the U.S. and Canada alone—mostly to women ages 30 to 60. Its other branded products have included greeting cards, puzzle books, calendars, gift baskets, and pet food.
Will eating Chicken Soup food while reading the Chicken Soup books result in soul healing and self-love of cosmic proportions? Unfortunately, no. "That's silly," says Bill Rouhana, chief executive of Chicken Soup for the Soul Publishing. Consumers should continue to read as they normally read and eat as they normally eat. "It's supposed to be great food, not magic food."
Rouhana says fans have been pushing the idea for at least five years. The company started talking to Daymon about a year ago, and in July they founded a jointly owned company: Chicken Soup for the Soul Foods. It will work with food manufacturer Summer Garden, he says.
The line will be launched with seven comforting varieties of soup: chicken noodle, chicken and rice, creamy tomato, mushroom barley, country-style squash, sweet corn and chipotle, and hearty black bean. The companies also plan to offer gravies, broths, pot pies, casseroles, and stews.
Book sales have been strong, Rouhana says. He liked the idea of "making comfort food better for you, delicious … healthier than the [typical] comfort food today, and making it consistently available," and thought it was right for the brand.
Sarah Randall, a former assistant manager at a Barnes & Noble in Seattle and an avid soup lover, recalls the popularity of the Chicken Soup franchise at the bookstore. "It's a recognizable name, and I think people will be curious to see what it tastes like," she says.
Chicken Soup for the Soul foods will bring "new opportunities to retailers and our suppliers to connect with consumers in a differentiated way," Andres Siefken, chief marketing officer at Daymon Worldwide writes in an e-mail.
Given that the Chicken Soup series has a book for everyone, from teenagers to prisoners to pet lovers, and emotional eating is hugely satisfying, this cross-branding of feelings and food may be hugely successful—except, perhaps, for the 20-year-old demographic that seems not to buy the Chicken Soup books or consume much soup. "We lose everyone in their 20s," Rouhana laments.
Maybe it's time they consider Chicken Soup for the Soul booze.
Before it's here, it's on the Bloomberg Terminal.
LEARN MORE