Columbia, NYU MBA Applications Plummet
Louis Lavelle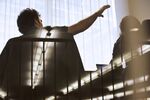 The turmoil on Wall Street is causing applications to decline for two MBA programs with close ties to the finance industry.
It's no secret that Wall Street is hurting. Job cuts have already been announced by Morgan Stanley, Credit Suisse, and UBS, and more are expected at Deutsche Bank, Bank of America, and Goldman Sachs, major MBA employers all.
The average Wall Street bonus fell 13 percent last year to $121,150, the lowest level since 2008, according to projections by New York State Comptroller Thomas DiNapoli reported by Bloomberg News. And a whole bevy of banks—including JPMorgan Chase, Citigroup, Bank of America, Goldman, and Morgan Stanley—reported their worst first-half revenue since 2008. As New York magazine put it in a February cover story, "The Emasculation of Wall Street": "The Masters of the Universe are masters no longer."
Apparently, Wall Street's brave new world isn't for everybody. Columbia Business School, which sent half of its 2012 graduating class to financial services jobs, including 18 grads to Goldman, is reporting a staggering 19 percent drop in applications to its full-time MBA program. It's the biggest one-year drop in applications in recent memory. Amir Ziv, vice dean and accounting professor at Columbia, says the troubles on Wall Street are largely to blame.
"There's merit to the argument that if the financial industry isn't doing well, it should hit schools that are more exposed to it than others," Ziv says. "In the long run, if it's not doing well, you'll have fewer students interested in schools that are excellent in finance."
Columbia isn't alone. New York University's Stern School of Business, where 46 percent of this year's graduating class entered financial services, is reporting 3,907 applications for the incoming class of 2012, down from 4,416 in 2011, a decline of nearly 12 percent.
Where business schools are less reliant on Wall Street jobs, the hit to applications has been considerably lighter. Applications are down less than 2 percent at Harvard Business School, from 9,134 in 2011 to 8,963 in 2012, and less than 1 percent at Wharton, from 6,442 in 2011 to 6,408 in 2012. At Chicago's Booth School of Business, which will release application numbers on Sept. 4, there has been a "slight decline" in applications, according to Stacey Kole, deputy dean for the full-time MBA program. At Chicago, Wharton, and Harvard, about 40 percent of this year's graduating class took jobs in financial services.
If applicants are fleeing finance schools, it wouldn't be surprising: B-school graduates have been straying from the finance industry for years. The Graduate Management Admission Council (GMAC), which publishes the GMAT test, reported in its latest Global Management Education Graduate Survey just how disaffected would-be MBA I-bankers are.
Except for a brief upward blip in 2010, the popularity of finance as a career destination among MBAs has been on a steadily downward trajectory since 2008, the year of the Lehman Brothers collapse. When GMAC surveyed 6,292 graduate business students at 136 schools worldwide earlier this year, just 18 percent of those surveyed declared finance and accounting their top choice, well below products and services and consulting. Among career switchers, only nonprofit and government jobs rank lower.
One upside to a decline in applications is that it makes it a little easier for those who did apply to win acceptance. As Wall Street Oasis first reported, if Columbia accepts the same number of applicants it did last year, about 1,060, its selectivity will be about 20 percent. Columbia ranked No. 9 in Bloomberg Businessweek's most recent ranking of top full-time MBA programs in 2010, but 20 percent is on par with much lower-ranked schools, including No. 21 Yale School of Management and No. 14  Tuck School of Business at Dartmouth.
Of course, that doesn't mean just anyone can get in. The average GMAT score for accepted applicants, as well as the middle 80 percent range of scores, is virtually unchanged from last year, despite having fewer applicants to choose from. Still, it means far fewer highly qualified applicants were turned away this year, and that's got to make a lot of people happy.
Before it's here, it's on the Bloomberg Terminal.
LEARN MORE