China's Plans for Its Own Car Brands Stall
Mainland automakers are big producers—for foreign partners
Bloomberg News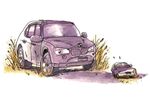 Liu Yu thought he was making a pretty generous offer: a $1 million subsidy to entrepreneurs willing to build a dealership for BAIC Motor's Beijing car brand. Although that covers three-fourths of the cost of each outlet, the BAIC deputy sales chief has struggled to recruit the 150 dealer candidates he wants by yearend. In contrast, BAIC's state-run parent company has no trouble finding dealers for its joint ventures with Mercedes-Benz maker Daimler and Hyundai Motor—even without subsidies. "China's indigenous cars are the lowest in the food chain," says Liu. "Many consumers are biased against them."
Three decades after China began requiring foreign automakers to form ventures with domestic manufacturers to build cars in the country, the strategy appears to be failing in one of its key goals. While the policy has attracted investment and created millions of jobs, it's done little to help China build strong car brands of its own. "We've been trying to exchange market access for technology, but we've barely gotten hold of any key technologies in the past 30 years," says Liao Xionghui, vice president of car and motorcycle maker Lifan Industry Group.
Chinese auto brands have lost a quarter of their market share in the past two years as consumers choose vehicles made by foreigners such as General Motors and Volkswagen. As many as half of China's 171 local carmakers may go out of business within three years, the state-backed auto association predicts, as foreign brands push into smaller cities.
Foreign and joint-venture brands had 63 percent of the passenger-vehicle market in July, says the China Association of Automobile Manufacturers. Domestic brands saw their share decline to 37 percent from 49.2 percent in January 2010. "There is a belief … that international brands have more technology, in some cases better craftsmanship," says Joe Hinrichs, president of Ford Motor's Asia-Pacific and Africa region.
Chinese carmakers have grown dependent on profits from manufacturing for foreigners, neglecting their own brands, says Daiwa Capital Markets analyst Jeff Chung. "Foreign partners are not willing to transfer their key technology to local partners, and most state-owned companies don't really care that much," he says. "Their focus is more on sales volume and a high utilization rate."
The country in 2009 became the world's largest market for new vehicles, with sales of more than 18 million cars last year. The industry today accounts for 30 million jobs, or 11 percent of China's workforce.
Although Chinese cars have improved considerably over the years, according to J.D. Power and Associates' annual dependability study, problems with local nameplates still exceed those of foreign brands by 75 percent. To boost their appeal, some Chinese automakers have brought in star designers from abroad. BAIC's parent in April hired Leonardo Fioravanti, who designed the Ferrari Daytona, as chief design officer. BMW's China partner, Brilliance China Automotive Holdings, lured Dimitri Vicedomini from Italian design house Pininfarina.
China's government has partially met its 2011 targets to have two to three national automakers with annual sales exceeding 2 million cars and four to five with more than 1 million deliveries each. SAIC Motor, Dongfeng Motor Group, China FAW Group, and China Changan Automobile Group each sold more than 2 million vehicles last year. Among the rest, only BAIC topped the 1 million-unit mark. Yet even the stars haven't fared well with cars they developed themselves. SAIC, Dongfeng, and China FAW generated less than 10 percent of their profit last year from selling their own passenger-vehicle brands, says China FAW Deputy Engineer-General Zhou Yongjiang.
Before it's here, it's on the Bloomberg Terminal.
LEARN MORE