Can a Harvard MBA Fix India's Economy?
The returning finance minister tries to restart growth through reform
By and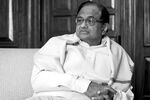 Here's a partial list of the bad news out of India this year: First-quarter growth was 5.3 percent, down from 9.2 percent a year ago; the summer monsoon rainfall has been well below average, causing havoc for its 235 million farmers; the government missed its target to cut the budget deficit to 4.6 percent of gross domestic product; in June, Standard & Poor's warned it might downgrade its credit rating to junk; and then came the power failures that left hundreds of millions of people in the dark in July.
To the rescue comes Palaniappan Chidambaram, appointed finance minister on July 31 by Prime Minister Manmohan Singh. India's business community and foreign investors hope Chidambaram can revive Singh's moribund economic reform agenda. Chidambaram, 66, who has an MBA from Harvard, was India's commerce minister in the early 1990s, during the heyday of the country's economic reforms, and finance minister from 2004 to 2008. After the 2008 terrorist attacks in Mumbai, Chidambaram became home minister and helped restore Indians' confidence in their nation's security.
In his first month on the job, Chidambaram has called on banks to lower average lending rates of 10 percent, and pledged to tackle the deficit. He's also ordered a review of the controversial proposal of his predecessor, Pranab Mukherjee, for retroactive taxation on capital gains. The plan alarmed multinationals such as Vodafone, targeted by the government to pay $2.2 billion for a deal concluded in 2007. "Chidambaram has made all the difference—partly because he's taking initiatives that will improve the investment climate and partly because he's just not Mukherjee," says D.H. Pai Panandiker, president of RPG Foundation, an economic think tank in New Delhi.
Chief among Chidambaram's new team of advisers is Raghuram Rajan, a professor at the University of Chicago's Booth School of Business and former chief economist at the International Monetary Fund. In a June syndicated column, "What Happened to India?" he decried a "lurch toward populism" that stalled reforms under Singh. "By installing these guys, it does seem there has been a bit of a light-bulb moment," says Glenn Levine, senior economist with Moody's Analytics. "That's promising, but it may be a little late."
Chidambaram's chances of ultimately making a difference depend on whether the gridlock continues in India's fractious legislature. On Aug. 28, BNP Paribas equity strategists Erwin Sanft and Alan Lee downgraded India from overweight to neutral, writing that the country was struggling to keep growth above 5 percent. "The current policy deadlock amid high inflation will be a tough one for the current government to overcome," they wrote. "We may need to wait until a new government is formed in 2014 to break the deadlock."
BOTTOM LINE -
The bottom line: India's new finance minister hopes to spur growth with lower rates and policies to restore investor confidence.
Before it's here, it's on the Bloomberg Terminal.
LEARN MORE