Apple vs. Samsung: The Longer View
Apple may use lawsuits to negotiate licensing agreements
Paul M. Barrett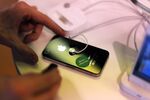 For much of the 1980s, Apple battled Microsoft in court, trying to prove that early versions of Windows illegally copied the look and feel of Apple's Macintosh operating system. Steve Jobs lost that fight, a defeat that at the time seemed like an industry-defining event. History proved otherwise.
On Friday, Aug. 24, Apple, now the world's most valuable company in terms of market capitalization, got the best of Samsung Electronics in the first of its patent cases to go to a U.S. jury. A nine-person panel in San Jose spent an astoundingly brief three days forging through a 600-question verdict form to conclude that the Korean manufacturer infringed six patents for Apple mobile devices. The judgment in federal court came with a $1.05 billion price tag—less than half what Apple was looking for, but not too shabby all the same.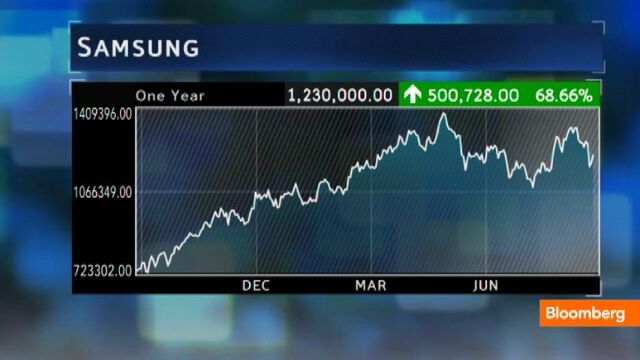 On the first day of trading after the verdict, Aug. 27, Samsung shares plunged 7.5 percent (it made up some of the loss the next day). As Bloomberg Industries mobile-device analyst John Butler explains, the court outcome "signals competitors to steer well clear of Apple's designs or face the possibility of a lawsuit."
While Apple and its legal team had every reason to celebrate, the mobile-device wars aren't over yet—not by a long shot. The verdict represented just one round in a bout being fought fiercely among at least a half-dozen companies, on four continents, that likely will continue for years.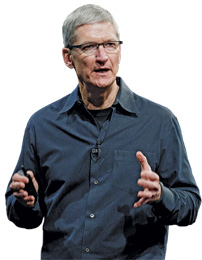 Samsung's attorneys next will ask U.S. District Judge Lucy Koh to throw out the verdict. She'll probably decline to do that, and then Samsung will appeal to a higher court. In coming months, Koh is scheduled to decide whether to issue an injunction blocking the sale in the U.S. of eight Samsung mobile phones and one tablet that the jury found to have infringed Apple patents, in which case the Korean company may have to delay some deliveries until it can design around the offending features. The timing could be advantageous to Apple, which is expected to launch the new iPhone 5 in September and a smaller version of its iPad tablet in October.
Still, Samsung will not have to write a billion-dollar check anytime soon, if ever. And the effect on Samsung of a possible injunction would not be cataclysmic; the devices in question are older ones and will account for less than 1.4 percent of the Korean company's worldwide profits next year, says Mark Newman, an analyst with Sanford C. Bernstein who previously worked at Samsung.
The best way to view Apple's smartphone victory is that the company now has the upper hand in a global negotiation being conducted via litigation. That's right: a negotiation. Apple and Samsung are using the courts to help set prices for a series of eventual cross-licensing agreements covering each other's intellectual property. Apple, which already cross-licenses some of its mobile patents with Microsoft, just saw the price of its IP go up as a result of the San Jose verdict, but it did not mortally wound Samsung.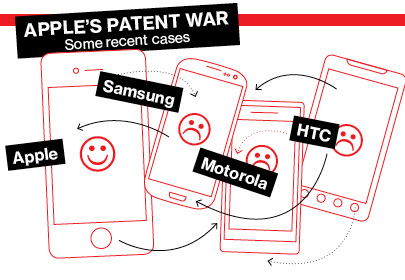 Apple's larger conflict is with a range of device-making rivals that, like Samsung, use the Android operating system that Google gives away for free. The big prize in the far-flung patent disputes is having the dominant operating system in a growing market for mobile phones and tablets that's already worth several hundred billion dollars a year. Currently, Android accounts for about 60 percent of the mobile market, three times the reach of Apple's iOS, according to analysts with Bloomberg Industries.
Eventually all the competitors will settle up (on confidential financial terms) and get back to ordinary competition. Steve Jobs and Bill Gates didn't exactly become friends after their software litigation petered out in the 1980s; instead, they leashed the lawyers and focused on new products. Indeed, Apple is Samsung's biggest customer for mobile-device components; the companies continue to quietly collaborate even as their lawyers bash one another. Unlike his predecessor Jobs, who was intent on defeating Android, Apple CEO Tim Cook has no incentive to crush Samsung.
Given how popular Samsung's and other companies' Android devices are with consumers, it's unlikely that major telecom carriers would limit their selection of them in the wake of the San Jose verdict. And in the long term, the duel between Apple's closed-garden operating system and Google's open system (and between the iPhone and its many imitators) will be determined where it ought to be: at retail sales counters in the U.S. and around the world. In the court of capitalism, consumers are the ultimate jurors.
Before it's here, it's on the Bloomberg Terminal.
LEARN MORE