The Art of Going Corporate at Political Conventions
By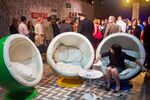 On one level, the Republican National Convention must be a marketer's dream: all those policy-makers feeling festive in one place! Critical issues on the agenda. Walls to decorate. Beverages to supply. More than 15,000 journalists hunting for news, according to the official tally.
Nonetheless, as with any political gathering, there's always the risk that some zealot decked out in buttons and a garish hat will corner a client. Protestors might occupy your offsite brunch. Your brand could be associated with causes that customers may not support. Having your boss attend one party's convention typically means a trip to the other one, too, unless he or she is funding a personal super PAC—as billionaire David Koch is doing—or has previously run for office, as Hewlett-Packard chief Meg Whitman has done.
And no titan of industry wants to be near a TV camera when the term "one-percenter" gets tossed out from the podium, even if it's done in jest.
No wonder corporations are careful about how they exploit the undeniable opportunities presented at such gatherings. That's even more critical this time around, with lackluster job growth and rising gas prices contributing to public pessimism about the merits of big business. Executives may be well-intentioned, but it's hard to promote a corporate agenda when looser campaign finance rules have stoked fears of influence peddling. Who wants to defend the need for tax breaks while handing out bellinis? Who wants to hear it? Heck, the Democrats won't even let companies pay for gatherings at their convention this year.
Straight-up schmoozing is hard to do. It's difficult to build the business case for it. Congressional ethics rules limit it. There's growing pressure on companies to disclose it. Meanwhile, the rise of super-PAC spending has fanned fears that big spending leads to corruption. (Almost 70 percent of Americans endorsed this notion in a national poll conducted earlier this year by the NYU School of Law.) Hosting private soirees is possible, but that carries the possible taint of elitism and closed-door dealings.
The safest bet: sponsoring a serious discussion of key industry issues at both the Republican and Democratic gatherings. That's what Wells Fargo and State Farm have done. They've sponsored the Council for Economic Education (CEE) luncheon panels on "Financial Literacy: Is your state part of the problem—or the solution?"
TIAA-CREF chief Roger Ferguson is listed as a speaker at both, though the Aug. 27 luncheon in Tampa was canceled amid the storm fears that delayed the convention's start. Corporate money has also funded a get-together that celebrates global investment in the U.S. (sponsored by companies like Daimler (DAI:GR), Allianz (ALV:GR), and Novo Nordisk. There's one on American infrastructure, brought to you by names like Norfolk Southern, BNSF, and Canadian National Railway. Meanwhile, a range of industry groups and lobbying firms—the usual promoters of corporate interests in Washington—are hosting policy discussions on topics from real estate's role in the recovery to entrepreneurship. Fun!
The challenge is finding topics that can be tailored to both ends of the political spectrum: Education and competitiveness are preferable to, say, debates about amnesty for illegal immigrants or abortion. "For most corporations, the rule of thumb is you have to have parity," says LeeAnn Petersen, a political consultant and partner at strategy firm Conventions 2012, which helps clients market their brands and causes at party conventions. "It could be that they're hedging their bets."
That doesn't mean you can't have a party preference. Labor unions continue to favor Democrats and a number of industry trade groups are more in line with Republicans. What matters is showing up at both events. For CEE, that meant tapping State Farm Chief Executive Officer Ed Rust for the Honorary Host Committee for its panel in Tampa and a discussion in Charlotte, N.C., and Ariel Investments' founder John Rogers for the Charlotte event. The conservative Business Roundtable has bought full-page newspaper ads and radio spots in both Tampa and Charlotte to promote its free-enterprise model.
Even those who host parties seem inclined to keep their companies' presence low-key. That's what happened at a tech industry party on Aug. 28 in the Liberty Plaza Pavilion. Most attendees probably didn't know that it was funded by Facebook, Microsoft, Oracle, and Intel, among others.  No company officials were to be found. Their brands appeared only on a screen at the far end of the venue.
There are still fearless brand-builders such as Google. Not only has the tech giant—and powerful lobbyist—created a convention center lounge that boasts a photo booth, giant couches, multicolored seating pods, and a complimentary espresso bar, the company has surrounded it with giant touchscreens that showcase Google's political value.
One screen proclaims that "the Web is working for American business" and shows a map of each U.S. state, highlighting the economic activity Google has helped generate. Other screens encourage users to tap Google Insights to learn more about political statistics, or send a message to troops in Afghanistan via Google hang-outs. (Google has also teamed up with Bloomberg LP, which owns Bloomberg Businessweek, to co-host a series of discussions on innovation, the Internet, and job growth.)
Whether they choose to showcase their brands, corporate leaders know a great business opportunity when they see it. "Over the course of a day, you can have 10 conversations that would normally take a month to arrange," says Deidre Campbell, a managing director at Burson-Marsteller (WPP:LN) and member of CEE's board. "At the end of the day, this is a very efficient gathering of the policy elite."
—With reporting from Elizabeth Dwoskin in Tampa
Before it's here, it's on the Bloomberg Terminal.
LEARN MORE