'Real' Homeownership Rate at Nearly 50-Year Low
Adjusted figures look worse than official ones
by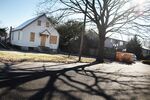 So much for President George W. Bush's "ownership society." The real rate of homeownership—subtracting people who are about to be ejected for not paying their mortgage—has fallen to lows not seen since the mid-1960s, according to a new analysis.
The decline in the Census Bureau's official measure of homeownership is bad enough. It slid to 65 percent this year from 69 percent in 2005 and 2006, at the peak of the housing bubble, when buying a home was universally considered a sensible way to secure one's fortune. But things look even worse when you strip out homeowners whose homes are in foreclosure or who are headed for foreclosure because they are 90 days or more delinquent on mortgage payments.
The "real" homeownership rate, adjusted for foreclosures and serious delinquencies, stood at just 62.1 percent in the second quarter of 2012, down from a peak of 68.3 percent reached during a couple of quarters in 2004 and 2005, according to an analysis by Sean Fergus, manager of research at John Burns Real Estate Consulting. That sets it back to levels last seen in 1965.
The adjusted figures for years before 1991 are approximations, because statistics on foreclosures and delinquencies from the Mortgage Bankers Association of America go back only to that year. Still, Fergus says he is confident that the pattern is accurate, as there were no serious downturns in housing prices before 1991 that would have caused a major spike in foreclosures and delinquencies.
Before it's here, it's on the Bloomberg Terminal.
LEARN MORE