Lionel Richie Finds Some Country Comfort
The longtime R&B star crosses genres and lures music's most lucrative fans
By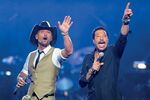 One of singer Lionel Richie's biggest hits was his 1981 duet with Diana Ross, Endless Love. Recently the artist has taken a cue from another vintage tune: Gloria Gaynor's 1979 hit, I Will Survive. That disco-era anthem of reinvention says a lot about the career strategy of not just Richie but of the entire music industry, which for more than a decade has grappled with the toll digitization has taken on its once-platinum business model.
A quarter century after Richie's last No. 1 album, the 63-year-old singer-songwriter of such R&B staples as All Night Long (All Night) and Three Times a Lady again tops Billboard's sales charts with Tuskegee, a collection of duets with country music's Shania Twain, Tim McGraw, Blake Shelton, Kenny Chesney, and others. By reprising some of his biggest hits with country's top stars, Richie is blurring the lines between genres and attracting a new audience that still spends on higher-margin CDs. He's also providing a spark for the U.S. record industry, which registered its first annual sales growth in seven years in 2011 and is eager to get consumers to try—and buy—new music beyond their traditional faves. "These songs lend themselves to being done by country artists," says Ken Robold, general manager of Universal Music Group Nashville, the Vivendi-owned label that produced the album. "Lionel could have been a country artist all along. He just happened to sign to Motown."
Tuskegee, named for Richie's hometown in Alabama, has been a smash. Richie has sold in excess of 1.2 million albums, more than any other artist with a release this year, according to Nielsen SoundScan. The album "is me coming home," Richie says in an e-mail. Growing up, the singer listened to Grand Ole Opry broadcasts and early in his career was befriended by country icons Conway Twitty and Dottie West. He says he enjoyed Buck Owens and Glen Campbell without thought to genre and later puzzled R&B tastemakers with simple, country-influenced songs like Easy and Three Times a Lady that had broad appeal. "I guess that's because I didn't understand the categories and refused to fall into one," he says.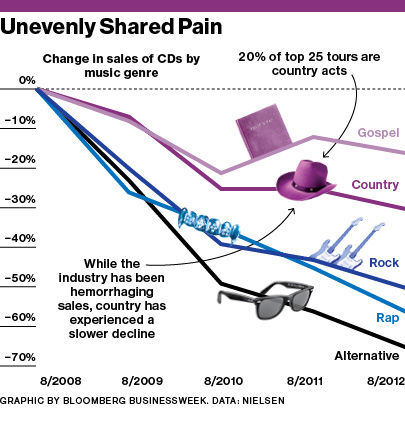 As genres go, country music is lucrative because it sells more CDs as a share of revenue than rock, rap, or R&B, according to SoundScan. That means a bigger payday for labels and artists than they'd see from music sold as downloads on sites such as iTunes, where 30 percent of the price goes to Apple. Country fans are also an important audience for concerts, which many artists depend on for revenue once provided by record sales. The industry's top-grossing tour this year was McGraw's and Chesney's Brothers of the Sun Tour, which averaged a mammoth $4.12 million per performance, according to concert tracker Pollstar. Both country icons sing with Richie on Tuskegee. "There's a business rationale, looking at music today, where you would want to be in country," says Russ Crupnick, an analyst at researcher NPD Group. "It's a great sweet spot."
So far this year, 73 percent of country sales have come from physical CDs, vs. 59 percent for all genres, according to SoundScan. While total sales of CDs have plummeted 52 percent from five years ago, country has declined only 30 percent. So a well-placed retail promotion of a country album can still yield a disproportionate bump in sales. Richie's label released a CD single of a new version of Endless Love, a duet with Twain, exclusively at Wal-Mart five weeks before the album's debut to coincide with Valentine's Day, Universal Music's Robold says. "That created a lot of awareness that this album was coming," he says.
While artists such as Frank Sinatra and Tony Bennett had already shown duets with modern stars can be a potent formula, Richie, who in his career has sold 23 million albums in the U.S., went further by adapting some of his biggest songs for a new genre. Crupnick says that also motivated longtime fans, who might have skipped another hits compilation, to buy the album. "Someone said to me, 'Lionel's going country,'" Richie says. "No … I'm just following where the songs have already gone."
Tuskegee was well-timed. Country music sales are at their highest since 2009, according to SoundScan. On TV, Shelton has become a judge on NBC's The Voice, and ABC has scheduled two new country-themed shows for this fall. Twain devoted an episode of her cable show on OWN: Oprah Winfrey Network to her collaboration with Richie.
Music-streaming services such as Spotify, social media, and multigenre festivals such as Bonnaroo, where Richie played with Kenny Rogers in June, also help expose niche artists to wider audiences. Another example: this month's iHeartRadio Music Festival in Las Vegas, which will feature everyone from country's Taylor Swift to rapper Lil Wayne to Latin crooner Enrique Iglesias to deejay Deadmau5.
Richie's label has also pitched the CD on digital services to reach new audiences. Tracks and music videos from Tuskegee have been streamed almost 15 million times on services such as Spotify and VEVO. Explains Eric Garland, co-founder of music researcher BigChampagne and senior vice president at Live Nation Entertainment: "People who might not have otherwise heard what you're doing because the barriers were so significant—you had to hear about the project, get in your car to buy a CD and to listen to it—now have more of a chance."
Before it's here, it's on the Bloomberg Terminal.
LEARN MORE