Average Household Has 5 Connected Devices, While Some Have 15-Plus
By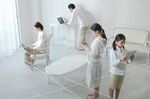 Good luck unplugging: The average U.S. household owns five devices connected to the Internet via Wi-Fi, wired or cellular networks, according to new research from consultant Chetan Sharma.
The survey of more than 1,000 people also revealed this shocker: more than 6 percent of households own more than 15 connected devices, which includes smartphones, tablets, gaming consoles, TVs and digital photo frames. That high number will become the norm for a growing percentage of consumers in the coming years, said Sharma. He estimated that about 70 to 80 percent of these gadgets can access the Internet via wireless connections.
Today, there are about 10 billion connected devices in use worldwide, according to a study Sharma plans to release next week. At the end of 2011, there were more than 9 billion connected devices, he estimated.