Weak Banks Drag on Small Business Lending
by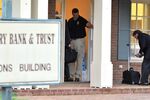 It seems obvious: Weaker banks are lending less to businesses than strong ones are, according to a new analysis from the Federal Reserve Bank of San Francisco. What's surprising is how much of the recent drop in small business loans can be traced to a minority of community banks that are shrinking their loan books, even as healthy small banks increase lending.
Since the financial crisis struck four years ago, the amount of money banks lend to small businesses has been shrinking. That's a problem because companies' borrowing is considered crucial to creating jobs. The San Francisco Fed's paper suggests that in 2011, the drop in lending by weak small banks overshadowed increases among stronger lenders.
"The total decline for the weak guys is bigger than their presence," says economist Elizabeth Laderman, who wrote the paper. "They're really pulling down the total."
These lenders made up about one-third of the 5,453 banks with less than $1 billion in assets that Laderman looked at. Community banks of this size provide about 41 percent of small business loans. (Her study didn't look at larger banks.)
This drop comes despite years of government help for banks, from the original TARP  bailout to the Small Business Lending Fund, designed specifically to boost small business lending by offering community banks low-cost capital from the U.S. Treasury. Laderman's research didn't address whether those efforts have succeeded. But, she says, "it suggests that even if those policies have been helpful, they're not the whole solution."
Banks held $607 billion in outstanding business loans of $1 million or less last year, down from a peak of $712 billion in 2008, according to a Small Business Administration analysis. (Nobody tracks the actual size of the companies taking out the loans, so regulators use the $1 million threshold as a proxy for loans to small businesses.)
Economists, business owners, and bankers have disagreed about why small business lending continues to shrink. Banks tend to blame lack of demand: Fewer healthy businesses want to borrow because sales are weak."You have many parts of the country that went very deep into recession and still have never recovered," says Paul Merski, chief economist at the Independent Community Bankers of America, which represents community banks. Banks in such areas as California, Nevada, Arizona, and Florida may not have the opportunity to make good loans, Merski says. Sometimes pressure from regulators keeps them from lending, he says, if a bank's existing portfolio is too concentrated in commercial real estate loans, for example.
Businesses, meanwhile, contend that the drop in lending reflects a supply problem caused by banks' refusal to lend. Laderman's paper shows that strong banks made more loans in 2011, thereby suggesting that businesses want to borrow. That's consistent with other evidence of unmet demand for credit. How well the banking sector can meet the demand from small businesses, however, may depend on the weaker small banks that have been shrinking their loan books for four years running.
Before it's here, it's on the Bloomberg Terminal.
LEARN MORE