Paulson, Investors Avoid Fireworks Despite Brutal Run
by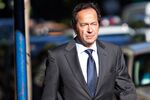 On Tuesday afternoon, hedge fund manager John Paulson got on the phone with anxious financial advisers from Bank of America's wealth management unit and their clients, with the aim of calming frazzled nerves. In the end, though, the call raised more questions than it answered.
According to a person who was briefed on the call, Paulson discussed various scenarios for gold prices, the euro, and the U.S. economy, with no mention at all of the troubling performance that had prompted the call in the first place. Toward the end, Paulson answered questions from the brokers, but none of them asked anything even remotely controversial—about, say, what had happened to millions of dollars of their investors' money—sticking instead to polite generalities about macroeconomic events.
The conference call was prompted in part by a decision by Citigroup's private bank to withdraw about $410 million from Paulson's two largest funds, Advantage and Advantage Plus, as reported by Bloomberg News on Aug. 23. It was hosted by the head of alternative investments at Merrill Lynch, which is a unit of Bank of America, and brokers and clients who participated were given strict orders to maintain confidentiality about what was said. There was no mention on the call of restricting client investments in Paulson's funds.
It's been a difficult run for Paulson, who became a superstar in the hedge fund world after he made billions of dollars for himself and his investors betting against the subprime mortgage market in 2007. Then, in 2011, he found himself unprepared for the market's gyrations, and Advantage and Advantage Plus lost 36 percent and 52 percent, respectively. Performance in 2012 has also been brutal, with the funds down 13 percent and 18 percent this year. Some of Paulson's smaller funds are doing better—one of the Paulson merger funds was up 5.4 percent in the first seven months of the year.
Morgan Stanley Smith Barney sent a memo to its financial advisers in April announcing that it would no longer accept investments for Paulson funds through its hedge fund investing platform HedgePremier. Because of losses and redemptions, Paulson's assets under management have dropped from more than $30 billion at their peak to under $20 billion.
"We clearly stumbled last year," Paulson told me in an interview in June. "We became overconfident as to the direction of the economy and took a lot of risk." So far, that appears to have been an understatement.
Before it's here, it's on the Bloomberg Terminal.
LEARN MORE