Party Conventions Are All Show. Party Platforms Are Not
By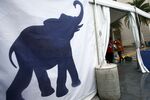 On Tuesday in Tampa, 5,500 delegates to the Republican National Convention are set to vote on a document spelling out the principles that—at least in theory—will guide the party for the next four years.
Almost nobody in the media will pay any attention to this because political reporters tend to treat everything that happens at the conventions as just-for-show. Most of it is. Yet the tussle over the unloved, often-ignored party platform may be one of the few genuine things that happens all week.
The platform is useful because it's an aspirational document that is also highly detailed, running to tens of thousands of words. Where Mitt Romney is evasive about what he would do as president, the GOP's true believers use the platform to list precisely what they wish he'd do. As a result, it's often a much more forward-leaning set of ideas than the nominee is willing to embrace. One example: This year's Republican platform will drop language saying that the once-sacred home-mortgage-interest tax deduction must be protected, a sign that party die-hards are frustrated at their leaders' refusal to get serious about finding money to reduce the federal budget deficit. Democrats, meanwhile, have announced that gay marriage will become a plank in their party's platform. That decision demonstrates the growing strength of gay rights groups and gay donors within the party.
Not that platforms are anywhere near as important as they once were. Until the mid-1970s few states held primaries, and candidates hoping to win the votes of convention delegates paid close attention to the demands they wrote into the document. During the Democratic Convention of 1948, delegates were divided as to whether to make a strong statement against segregation in the party platform. Hubert Humphrey, a Minnesota senator who later was vice president under Lyndon Johnson, wanted to take a stand against school segregation and lynching. Southern conservatives stormed off of the convention floor and eventually formed the Dixiecrat Party.
Last week, Romney staved off a mini-rebellion of his own. Supporters of Ron Paul, angry that their candidate wasn't invited to speak at the convention, threatened to stage a protest. The Romney camp mollified them with two concessions: a tribute video to Paul that will play at the convention and a promise to back Paul's call for an audit of the Federal Reserve as an official plank in the party platform.
Before it's here, it's on the Bloomberg Terminal.
LEARN MORE